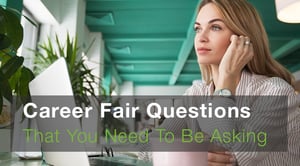 When attending a career fair, you're a bundle of nerves. Graduation is quickly approaching, and you're on the search for your first post-grad job. In preparation for this career fair, it's important to think about what you're going to be talking about with recruiters. They are going to be asking you a lot of questions about yourself, your interests, and any experience you may have - but what are you going to ask them?
If you've ever been to a job interview, you know the parts dreaded most. "What are your strengths and weaknesses?" "Why should we hire you?" And, the nail-biter, "do you have any questions?"
People with years of career experience know the questions they want to ask in an interview. After several jobs, they know exactly what they're looking for in a company and in a position. However, identifying these types of questions comes with years of practice. As a student going to a career fair in the search of your first job, it's important you know the right questions to ask.
Crucial Career Fair Questions
Before visiting a career fair, take time to prepare several questions that demonstrate your interest. Below are different types of questions to ask at a career fair and a few examples:
Questions That Convey Your Skills and Qualifications
Show the recruiters that you have what they're looking for! Ask a few questions that allow you to explain any experience or accomplishments you have. Examples of these questions include:
"What skills are you looking for in a qualified candidate?"
"Are there any specific courses that you would prefer a candidate to take?"
Through these questions, you can illustrate to a recruiter your qualifications and eligibility.
Questions to Show Your Interest in the Company
It's important to research companies before speaking with recruiters at a career fair. Identify which companies will be attending and do your homework. This prior research will allow you to ask impressive questions like:
"What do you think about ____?"
"How does ____ affect the company?"
Fill these blanks with aspects of the organization you found during your research. Learn more about researching companies before a career fair.
Questions to Learn More About the Company
There's only so much you can learn about a business or organization from their website! Think about asking questions that can give you more insight into the company.
"What is the company culture like?"
"What are some of the challenges of this position?"
Asking these questions not only displays your interest again, but it also gives you a better idea of what it would be like to work for this company. You can decide if you would fit in well and if the position is right for you.
Questions for Follow-up
Don't leave them hanging! Before leaving a recruiter at a career fair, make sure to ask them good conclusion questions like:
"May I contact you with further questions?"
"Do you have a business card or can I connect with you on LinkedIn?"
These last questions provide a way to stay connected with recruiters if they are interested in bringing you in for an interview. Getting contact information also allows you to follow-up with a recruiter after a career fair to thank them for their time and reiterate your interest.
Keep Your Career Fair Questions Handy
It's normal to get nervous when speaking to a recruiter! To prepare for nerves, type up your questions on the Career Fair Plus app. Having these questions readily accessible will help you be more successful!