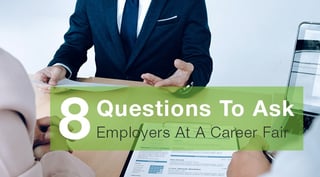 Career fairs are an important part of your job search in college. As you are preparing your resumes, outfit, and introduction skills for a job fair, make sure you have a list ready when the recruiter asks, "Do you have any questions for me?". This is your opportunity to find out more about the hiring process, the opportunities available, and what is like to work at the company. There are many helpful articles with lists of questions such as 51 Interview Questions You Should Be Asking. Here are 8 questions to get your list started.
1. What career paths are available in your organization?
Some organizations at career fairs have several well-defined career paths while others might be more flexible. If you know you want to go into management or gain a professional qualification, this is how you can find out how well your goals fit what the company offers.
2. What is your hiring process like for college hires?
Waiting is part of the job search process, but recruiters can give you estimates to remove some of the uncertainty. How long will it be before you hear about the next step? When should you send a follow-up to your application? It's easier to be patient when you know what is going on.
3. When will I know if I have a job offer at your company?
This is an extension of the question above, but you can ask it independently. Some organizations hire throughout the school year while others send out all their offers after attending several career fairs.
4. Do you offer training or mentoring to help me succeed in your company?
Your first job after college is just the first step in your career. Show recruiters that you are interested in long-term professional growth through formal training and mentoring. The answer to this question can be helpful you if get multiple job offers and need to choose the best opportunity.
5. Who will I report to? What is the office culture like?
Use your best judgment on this question. If you are talking to someone from a large company, it may be better to ask this later in the hiring process. It's a good question for small employers where the recruiter probably works in the same building and knows the people you may be working with.
6. Where am I likely to work? Will I be transferred to different offices?
If you are talking to a recruiter from a company with multiple offices throughout the country (or world), then you'll want to know where you will be likely to start. Some companies move employees frequently during the first few years to maximize their exposure to different ideas and teams.
7. What is the typical work week of a new college hire? Will I be expected to work overtime? Travel?
The typical work week at a company varies widely. Some businesses baptize new hires by fire to see if they can cope with short deadlines and extensive overtime. Others might bring you along slowly. A heavy travel schedule can dramatically increase your work hours. The more you know about the work environment, the better choice you can make.
8. How can I improve my chances of receiving a job offer?
If you think you are a good match for a company, then ask the recruiter how to maximize your chances of getting a job offer. She may advise you to apply for several positions or make changes to your resume. Don't be disappointed if a recruiter doesn't give you a specific action, but it's worth asking the question to see if what advice he offers.
Attending career fairs is an important part of your career search, so maximize your opportunities by preparing in advance. For example, preparing to ask the right questions by the job you're interested in. Or by knowing how to give yourself a confidence boost before speaking to the interviewer. Career Fair Plus is committed to your success with articles like 5 Things To Know Before Attending a Career Fair.