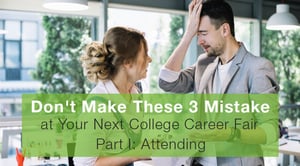 So you're heading to your first college career fair - it's both exciting and nerve-wracking! If you're looking to make the most of your career fair experience, avoid making these mistakes!
Passing on Preparation
When you're planning on attending a college career fair, preparation is key. Equipping yourself for a college career fair is easy. Your preparation checklist should look a little like this:
Pre-register: Some career fairs allow attendees to register prior to the event and even submit a resume for employers to review before the fair.
Research: Investigate the companies attending the college career fair. This knowledge of participating organizations means you can ask specific questions about the job and company. The Career Fair Plus app is a great way to view the companies that will be attending the fair.
Route: Prior to arriving at the career fair, decide what organizations you want to talk to most. This increases your efficiency and helps ensure you don't waste time wandering aimlessly. Make sure to check the Career Fair Plus App for a digital map to plan your route. This is also where you will see your favorite employers on the map.
Resumes: Proof and print your resume. Print several copies to pass out to employers you speak to throughout the fair.
Neglecting to prepare can be the difference between a successful or unsuccessful trip to the college career fair. Check out this list of items to bring to a college career fair.
Neglecting Notes and Networking
As you're making your way through the college career fair and talking with potential employers, it's important to take notes and network with other attendees.
While speaking with company representatives, there may be important bits of information you will need to recall or questions you think of and want to ask later. If you are using the Career Fair Plus app you can take notes directly on your phone.
Throughout your journey around the fair, it's suggested to meet and talk with other attendees. Creating these connections may lead to career opportunities in the future. In fact, 80 percent of jobs are found through networking. Learn more about networking at career fairs.
Keep an eye out for professional organizations that may have networking events for you to attend. These organizations are an opportunity for you as a student, to learn more about the career and industry you're entering after graduation. Sometimes an employer might host an info session prior to a career fair. These sessions are a great way to learn more about your career options before your feet ever hit the fair floor.
Failing to Follow Up
One of the most crucial steps after attending a college career fair is to follow up with all of the employers you spoke with - and maybe even some you didn't get to speak with. A follow-up usually means sending a thank you email, however if you are given an address or phone number you can send handwritten note, or even a phone call. While the latter two are not the norm, they are a nice touch. This strategic step reiterates your interest in the organization and serves as a reminder of who you are to potential employers.
Nowadays, staying in touch is easier than ever. Using platforms like LinkedIn, you can establish connections with recruiters or hiring managers you may have spoken to at the college career fair.
Conquer Your Next College Career Fair
Take time to prepare, be ready to take notes, and remember to follow-up to make the most of your college career fair experience! Having the knowledge of what NOT to do at your first college career fair can save you time and a headache when job searching.