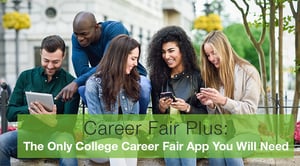 Your career services team probably wants to do more than your staff, resources, and budget allow. A recent National Association of Colleges and Employers (NACE) survey found that the median number of staff in a college career office is 4. Career Fair Plus is the perfect solution for an understaffed career service team planning a college career fair. In fact, Career Fair Plus is the only career fair app you will need. Let's look at some of the features available.
What is Career Fair Plus?
Career Fair Plus is an interactive smartphone app that makes it easy for students to prepare for career fairs. They can research the companies sending recruiters to the fair and use the floor map to plan their path through the recruiting tables. Your career services team can send alerts to keep students and recruiters informed - even during the career fair.
Customized Branding
Career Fair Plus offers a customized branding option, so your students will see your college mascot and colors. The app will only list the career fairs for your school, so they won't be overwhelmed by sorting through the hundreds of other career fairs around the country to find the one at their college.
Flexible Plans
Career Fairs Plus offers three plans so that you can find a solution that fits your needs and budget. The Essentials plan is user-friendly and quick to set up. This plan includes allows you to upload a list of employers, build an interactive map, and track how students are using the app.
The premium version of the Career Fair Plus app includes everything in the Essentials bundle and adds branding and push notifications. An Enterprise version is a good fit for colleges and universities who sponsor several career fairs a year. For more detail about these plans, see our article The Only Career Fair App You Need.
Recruiter Communications
Communicating with your recruiters is vital, but it can be time-consuming. Through Career Fair Plus, recruiters can:
Receive announcements from your team in real time.
Preview their listing on Career Fair Plus
See what other organizations are attending the fair
Access up-to-date logistical details
This simplifies the process for the recruiters and reduces the time spent on communication.
A Full Mobile Solution for Students
The recruiter version is good, but the best whistles on Career Fair Plus are for the students. The home tab shows the primary details for the fair, an option to put the date/time on their calendars, and any announcements from your team.
Employer Information
Students can see the latest information on employers who are attending the fair. The full list is shown by default, but students can filter employers by major, degree, and positions available. Veterans can search for companies looking specifically for vets. For your international students, they can filter the list to find organizations willing to sponsor visas.
Each employer page shows a summary of the company's information, a complete list of jobs they are trying to fill, and a space to make notes pertaining to that company.
Interactive Map
Once you experience the convenience of an interactive map for at a career fair you will never want to go back to paper maps. Never again will you pull a dolly overloaded printed maps through a January snow storm only to find out that it is no longer accurate.
Last minute floor changes or recruiter cancellations show up immediately on a digital map. Students can plan their route through the floor by marking each recruiter that they want to visit. See The Benefits of a Digital Map for Your Career Fair for more good things.
BONUS:
Skip The Line is coming for Fall 2018. It will change career fairs forever. For a quick peak at what students think, check out this video!
Conclusion
The Career Fair Plus app makes the planning process easier for you, recruiters, and most importantly - your students. It's the only career fair app you need to plan a successful fair.