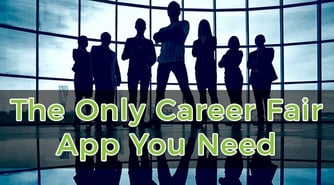 To appeal to both students and employers, career fairs have to stay relevant. The days of handing out a paper map and directing students to the entrance are rapidly fading. Students and employers expect more. That is why an interactive app bringing multiple resources to your finger tips is the exact tool you, your students and employers need for your next career fair.
Here is the only career fair app your organization will need: Career Fair Plus.
This app is a proven workhorse that has shown its merit around the world. It has been used at over 700 career fairs at campuses in the Americas, Australia, and Europe. Over 700,000 students have used the app for employee research and navigating the job fair. Over 17,000,000 employers have been viewed by students through the app.
The Plans
You can select from three different service plans, so you can customize the experience for your fair.
The Essentials plan is an easy to use solution that will get you started quickly.
You can load in a list of employers, events at the fair, announcements, and any prep resources you want the students to have
Your students get an interactive map so they can see where employers are in the facility
You have access to analytics to see how your students use the apps
You can upload employer logos for better brand visibility
You get marketing materials to promote the app for your attendees
You can offer sponsorship slots to your employers
Your students can download either iOS or Android versions and use the app offline
You get one admin account
With the Premium version, you get even more features that will make the career fair better for everyone:
You can push notifications out to the career fair app with high priority information

You can use the concierge service where the app's customer service team helps get you setup, loads the data and makes your maps interactive

You can customize navigation labels so you can give more relevant directions to your attendees
You can use the DirectConnect feature to pull data from the registration system directly into the app
You can integrate it with Twitter to promote the fair in new ways
You have multi-day capability if your fair runs more than one day
You can have more than one map uploaded
You can use Recruiter Connect Plus to communicate with recruiters before and during the event
You get personal consultations before and after the fair to get the most from the app

Your users will get a branded experience with your colors and splash screens

You get unlimited admin accounts
If your organization handles more than 10 career fairs a year, the Enterprise option may be the best one for you. It gives you better pricing as well as all the features of the Premium option.
When you are ready to plan your next career event, you need to add the career fair app to your plan. It will take your fair to the next level. Your organization, your students, and your recruiters will thank you.