Shifting public health regulations, fluctuating organizational policies, and varying personal preferences complicate recruiting events. Fair organizers are facing multiple challenges in planning their upcoming activities.
Some are leaning toward hybrid programs as a flexible and customizable way to meet expectations for in-person and virtual events. And while a "best of both worlds" solution sounds right, it's not the best option for every situation.
During a recent CF+ webinar (click here to watch the recording!), fair organizers representing five different universities shared which of our hybrid hosting options they chose:
Different Days
Same Day—Different Times
Same Day—Same Time
Keep reading to discover why each team chose a specific hybrid model and how their thought processes can simplify your planning decisions.
Hybrid at Missouri University of Science and Technology
Dr. Will Zwikelmaier, as the Director of Career Opportunities at Missouri University of Science and Technology (Missouri S&T), typically welcomed hundreds of employers to an annual single-day career event. However, when public health practices prevented this on-site recruiting, Will turned to Career Fair Plus to host Missouri S&T's virtual programs. Because of that positive experience, he says they "...are excited to be able to participate in a hybrid fair..."
A well-timed employer survey revealed that 30% of past participants would only recruit in-person, and 20%-30% responded they'd only attend a hybrid event. So, Will's team chose to meet both directives. They're offering their students and employers a three-day event: two days in-person followed by one virtual day. Will and his team needed two on-site days to accommodate all their participants within university guidelines for indoor gatherings. They decided to end with the virtual event as it conveniently fell on the first day of Fall break when many students would be home rather than on campus.
Going virtual in Ann Arbor
Kerri Boivin's career fairs for the College of Engineering at the University of Michigan historically attracted approximately 4000-5000 students and 1500-2000 recruiters on any given day. As you might guess, she and her team needed space in multiple buildings to accommodate thousands of attendees. So when access to indoor locations became challenging, virtual recruiting leaped to the top of their solutions list.
Hosting an online career fair with CF+ equalized attendance for the many participants, including international students, likely attending classes virtually and thus unable to join an in-person career fair. Additionally, an online event also leveled the playing field for the multiple employers waiting on budget approval and their company policies regarding on-site recruiting.
Relatedly, choosing to go virtual let Kerri and her team move forward while the University of Michigan was still setting guidelines for in-person gatherings. With so many moving parts, hosting online recruiting fairs delivered consistency across all career services' recruiting programs.
Customizing with interview days and timing at Auburn University
Apryl Mullins, Assistant Director, Career Development and Corporate Relations at Auburn University, customized the timing and content of their CF+ hybrid career program. "We're doing two fairs, one in-person and then a week later, the virtual fair." Why a week apart?
Two reasons:
First, to give the staff time between events. Second, they are hosting on-site and virtual interview days after each respective fair, and they wanted to allow students time to prepare properly.
The Auburn University Young Alumni Engineering Counsel enriched the program by conducting in-person mock interviews the week before the in-person fair and virtual mock interviews before the virtual recruiting day.
Similar to Will's reasoning for going hybrid at Missouri S&T, Apryl and her team also wanted to accommodate employers ready to travel as well as those only able to attend virtually. Equally committed to their students, they customized their CF+ hybrid event by offering each program on different weekdays to accommodate various class schedules.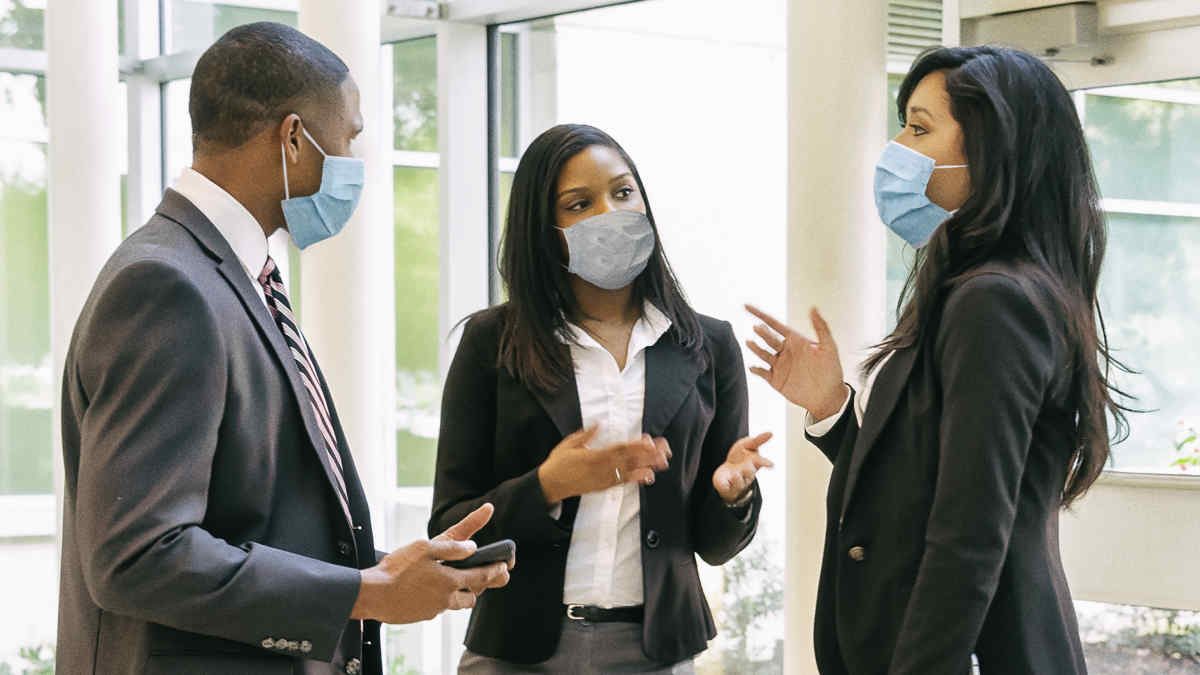 Continuing an Oklahoma State University legacy recruiting program
Alicia Low, Event Coordinator for Oklahoma State University (OSU) Career Services, and her team had an advantage preparing for their upcoming recruiting season: consistent employer and student feedback favoring hybrid events. But could they continue a popular three-day event encompassing separate on-site engineering, business, and agriculture career fairs in a hybrid format? Yes, with CF+.
Working together, OSU and CF+ elevated the university's legacy Tuesday-Wednesday-Thursday in-person event into a custom hybrid program including a virtual component. Alicia scheduled the online programs a week after the on-site days so participants could focus on each element separately. Also, she couldn't host the virtual and in-person events on the same day because the on-site fair is in a basketball arena with spotty Wi-Fi, which isn't conducive to online conversations.
Given the potential connectivity challenges and the sheer size of OSU's career fairs, hosting the three traditional in-person events followed by virtual meetings and a career fair a week later was a perfect solution.
Hybrid is the future in Amherst
Brian Krusell, Director of Career and Student Development at the University of Massachusetts Amherst, planned on repeating virtual recruiting until his students spoke up for in-person career fairs. "I think some of them liked the virtual, but a lot of them were really looking forward to less screen time," Brian speculated.
Knowing that alumni, recruiters, and students like having options, Brian and his team committed to maximizing choices. He acknowledged, however, that a decentralized career services office specializing in one discipline--computer and data science--has more flexibility than university-wide career services.
Since they average 100 employer participants or less, there's more flexibility to take chances on new program structures. For example, Brian's team customized CF+'s same-day hybrid model, so the in-person and virtual events are staggered rather than overlapping. The face-to-face session happens before and after lunch; the virtual portion occurs during their "sweet spot" from 4:00-8:00 pm to accommodate West Coast-based employers. Scheduling a one-day hybrid program creates a simple answer to "When's the career fair?" and, as Brian suggests, it's easier for students to remember a single date instead of two or three.
Additionally, the option for students to pre-schedule their meetings significantly influenced Brian's decision to go hybrid. He also wanted to capitalize on CF+'s rich analytics fair organizers receive after their events.
As the word "hybrid" increasingly dominates recruiting discussions, understanding "how to hybrid" is crucial. Transitioning from exclusively in-person or virtual recruiting is more than mixing two events into one long program. With CF+, fair organizers can choose the how, when, and where for each of three options:
Different Days
Same Day—Different Times
Same Day—Same Time
Talk with a CF+ team member before your next recruiting discussion. We're delightful people with creative, budget-friendly solutions to relieve and energize your team about "going hybrid"!