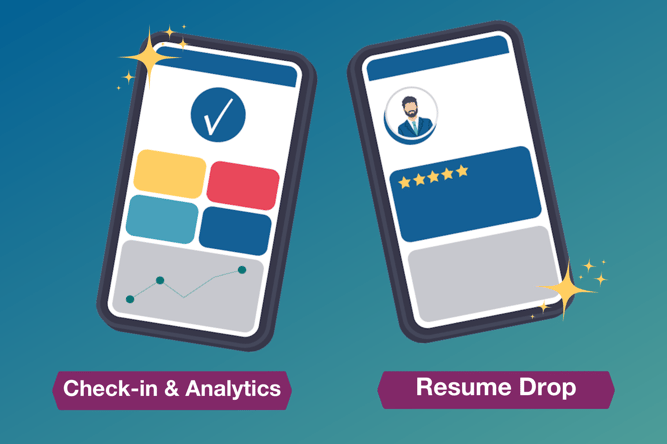 A decade ago a small technology startup reimagined in-person career fair best practices to facilitate more meaningful candidate-employee engagement. How? They helped increase students' confidence by packaging crucial pre-event information including employer profiles, interactive floor plans, and "Skip the Line" into a mobile app.

When the world went virtual in 2020, Career Fair Plus (CF+) gave career fair hosts and recruiters the first mobile and web-based online career fair platform with a built-in video platform. The sudden ability to collect performance analytics and generate ROI reporting helped smooth the transition from in-person to virtual recruiting.

Fast forward two years and the excitement about welcoming candidates and recruiters personally is almost palpable. As are realistic concerns about losingthe career fair or hiring event analytics harvested during online events. Well, breathe easy, CF+ Check-in & Analytics and Resume Drop are waiting for you.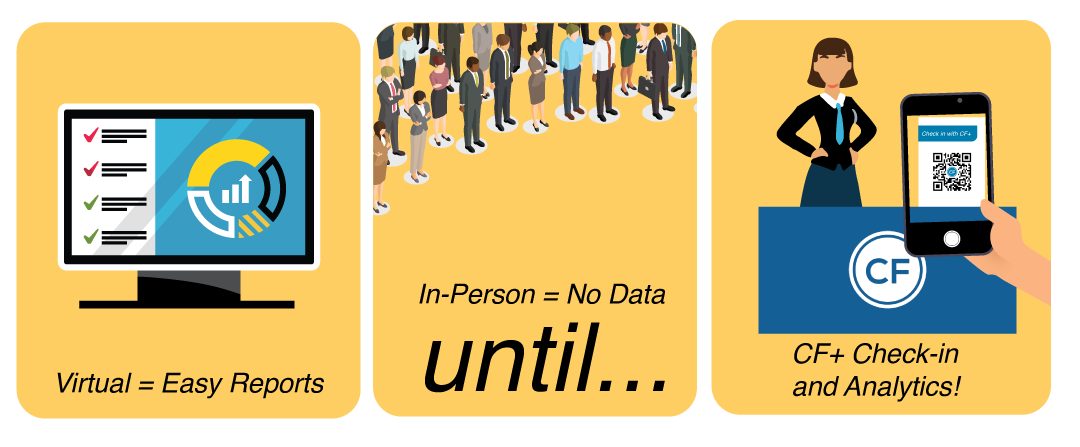 Check-in & Analytics
Now you can uncover the data hiding at your onsite career fairs with a QR code and a few clicks. Students scan your event-specific code on arrival and each employer's unique code at each booth; the technology does the rest.
What's in it for event hosts?
Answers. Event hosts distribute the employer QR codes CF+ provides before the event. gathering crucial information to address stakeholders' questions and prove ROI. After the event, you can report macro and micro data like:
Total fair attendance
How many students an employer met
Which students connected with which employers
How many companies each student engaged
The number of hourly interactions
You, your team, deans, department heads, and professors have full, standardized visibility into students' engagement at the career fair. These analytics enrich post-event follow up, too. With Check-in & Analytics, career services staff can advise students on next steps for each employer. And you can demonstrate the value of participating in future recruiting in-person events such as information sessions or hiring days.
What's in it for recruiters?
Time. When a student scans the recruiter's QR code, employers have immediate access to the information candidates include in their profiles like major, degree level, certification, activities, and of course, their resume.

You're also giving recruiters the complete list of students with whom they spoke. And, if employers optimize the CF+ app to take notes, rank the candidate, and indicate next steps, everything is digitized and centralized. No more thumbing through resume piles trying to remember if they even met the person attached to name at the top of the paper, let alone the nature of the conversation or hiring recommendations.
What's in it for candidates?
Success. Whether students secure an interview or simply arrive calmer, better prepared and more confident, that's a win for them, you, your staff, and employers. The digital resume eliminates anxiety about how many paper copies they need and how to protect them walking around a crowded event. Uploading resumes also means "downloading" fewer trees and facilitating university ESG initiatives.

Comfortable and professional students lead to more engaging and meaningful connections. Which brings the career event experience full circle.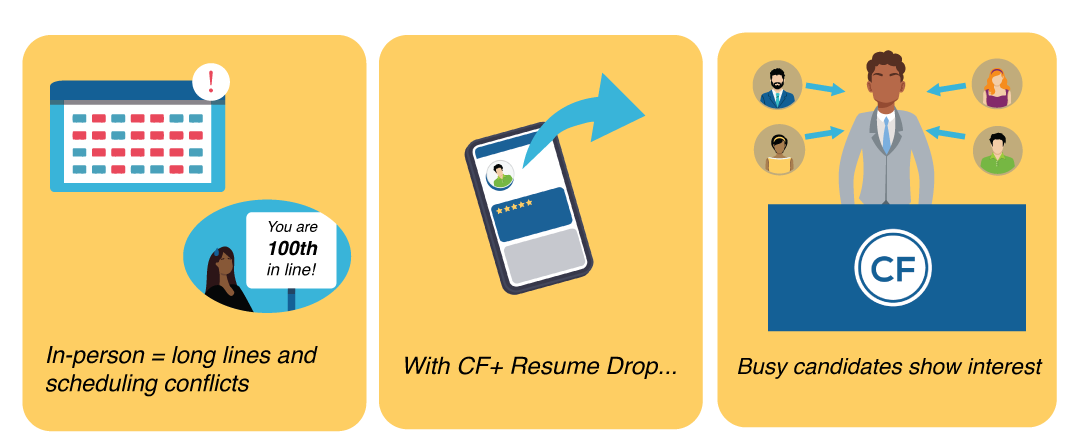 Resume Drop (is different from getting resumes with Check-in & Analytics)
Yes, Resume Drop sounds similar to employers getting access when students scan company-specific QR codes. Here's the important distinction: codes are only available at the in-person career fair. Resume Drop is open before, during, and after on-site and online recruiting events. Students can express interest in an employer a week before or an hour after the career fair. They can connect with a company where the student didn't anticipate an opportunity until they met the recruiter in-person or during a 1:1 video chat. And if this person is employee-of-the-month 12 weeks later, that's a win for you, the recruiter, and the university!
What's in it for event hosts?
To the extent connections start with resumes, giving students the opportunity to share with employers any time facilitates better engagement. Candidates can update resumes minutes before approaching a recruiter based on overheard conversations or company literature at the booth. Or, after meeting one-on-one virtually.
What's in it for recruiters?
Similar to above, real-time access to resumes helps recruiters create more meaningful engagements, too. They can tailor the face-to-face conversations to the student's areas of interest that align with the company's hiring priorities. Finding something in common on the resume might lead to productive communications after the event. And of course the digital resume book is so much lighter and easier to use than those bound books of yesteryear.
What's in it for candidates?
The flexibility to demonstrate interest in multiple companies before, during, and after the event is encouraging and reassuring. Oh, and popular, too according to the numbers from a small college recruiting event. Resume Drops averaged five per candidate the first day and 4.75 on day two. Translated, 127 students sent their resumes 643 times and 118 students clicked "send" 560 times respectively.

When class or campus job schedules conflict with the career fair, click and send! If they discover an employer not originally "favorited" in their CF+ app, click and send! And in the unlikely event they find a typo on their resume the next day, update, click, and send!

The relief from sharing a resume, especially if the student couldn't meet the recruiter, helps shape the overall success of the career fair. The convenience and accessibility of Resume Drop moves everyone closer to their end goals.


The same customer-centric focus that shaped CF+ features in 2012 are driving today's recruiting event solutions. Based on feedback so far, our two newest features, Check-in & Analytics and Resume Drop are soon-to-be customer favorites for producing better career fairs. Which ones will transform your in-person, virtual, or hybrid events? Tell us about your recruiting challenges and we'll introduce you to the specific CF+ solutions and functionality missing in your current software.