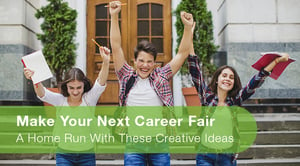 Have you noticed a drop in attendance at career fairs? With low attendance rates by students, employers tend to stop recruiting at these fairs too. If your career services office is in need of an attendance boost, check out some creative career fair ideas from Career Fair Plus!
Career Fair Ideas to Consider
As you're brainstorming ways to make your next career fair more popular and more successful, think about putting some of these career fair ideas to use!
Advertise
Before people can come to your career fair, they have to know about it! Spread awareness on campus and in the community with advertisements. In today's world, the best way to reach someone with a message is online. Utilize social media platforms to advertise the details of your event. Create sponsored ads to target the student body of your university. Share posts on the career services pages and profiles for students to find and to reference.
Don't forget to make use of classic advertising mediums as well. Hang flyers around campus and in restaurants, coffee shops, or recreational areas that are popular with students. Target school sporting events with print materials and announcements during the game.
Preparation Workshops
As a career services office, help students prepare for the career fair by offering workshops leading up to the event. Weeks prior to the career fair offer one-day seminars or interactive workshops to assist students in building their skills to find jobs. Get students ready the event by teaching skills on:
Resume writing
Creating an elevator pitch
Dressing and looking professional
Demonstrations and Contests
Make your career fair fun and interactive. Entertaining students and employers will help create positive feedback for your fair. Organize demonstrations, keynote speakers, and workshops for attendees to sit in on, watch, and learn.
You may also want to consider implementing contests and giveaways to incentivize guests to attend, stay longer, and get involved. For example, create a contest in which students receive prizes for visiting all of employer booths at the fair. Students get a stamp card at registration and must get a certain amount of stamps from recruiters before collecting a prize.
Food and Refreshments
What do people love more than contests? Free food! Offering complimentary snacks, soda, water, and coffee will keep attendees content and at your fair for longer. Instead of leaving for a caffeine boost or a lunch break, students and employers will be able to refuel and rehydrate at your event. This convenience keeps the fair more efficient for students, employers, and career services.
Technology
Make the career fair experience easier for everyone - including career services- by implementing career fair software. Using technology to simplify and streamline the career fair experience is a sure way to make the event a hit! Applications like Career Fair Plus allow students and employers to save time, stress less, and be more successful at career fair through features like digital maps, online student profiles, and Skip The Line.