Pivoting from in-person to online overnight was tough, but sudden access to real-time ROI eased the sting. Tracking attendance numbers and popular employers are just two useful pieces of information shaping planning meetings. So, if you're one of the many event hosts searching for ways to continue collecting meaningful data and elevate your in-person recruiting events, you'll like what you're about to read.
Career Fair Plus (CF+) is recruiting on a new level, including robust analytics for in-person and hybrid events. Here are five ways your soon-to-be-favorite recruiting software maximizes positive outcomes for employers, candidates–and your team.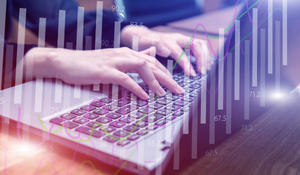 Capture analytics like a data guru
With CF+ Meetings, a proprietary software feature brings the analytics of online recruiting on-site. You can manage how your in-person event is developing by tracking the number, and type of, meetings candidates book with which employers. You can also follow which companies they're viewing and favoriting most often.
Then, evaluate program success with metrics such as no-show rates for scheduled meetings. Or with a custom solution tailored to measure your specific goals for each recruiting event.
Provide an interactive fair map
Your candidates will love this CF+ mobile app feature to map out the best routes between employer booths. And your recruiters–especially those at the far ends of the venue– will thank you repeatedly for helping candidates arrive on time for scheduled meetings!
Present employer information in one easily navigated space
The CF+ mobile and web apps showcase employer-provided information the same way for each company. Marketing teams can include company introductions, videos, or links to their web pages and recruiting materials. After viewing one or two company profiles, candidates know exactly where to find all the available employer content.
Reduce candidates' stress about in-person events
You could almost feel the national exhale as candidates discovered how comfortable they were talking to recruiters virtually instead of in person. Bringing your on-site event to the CF+ platform means handing your jobseekers digital tools to help them show up on-site as calmly as they showed up on the screen. They can preview employers job opening prerequisites and book one-on-one or group meetings as offered by recruiters. Combining these advantages with the company profiles and interactive map creates confident, well-informed candidates ready to engage face-to-face.
Reduce your team's stress about in-person events
Learning recruiting software might be time consuming with other technology partners, but CF+ makes it easy with multiple training options. We have 1:1 live training, recorded instructional sessions, short how-to videos for specific features, and searchable Success Centers with readable help articles.
And our genuine, live customer support team is ready to deliver the moon to ensure your events run seamlessly from start to finish. Whew, that's a lot of information at your fingertip!
Use CF+ once, and you're ready to capture those meaningful analytics you crave from virtual events at your in-person career fairs, hiring events, open houses, onboarding programs, lunch & learns, coffee chats, etc. Need to measure ROI at a different type of event? Awesome, ask us. Let's tailor a solution to track your recruiting goals.
One more thing: choosing CF+ ensures you can seamlessly switch from on-site to online. So if weather issues threaten attendance or new gathering restrictions go into effect at the last minute, you're covered.
Get the on-site data you need to maximize your recruiting efforts (and dollars)
Free eBooks and recruiting info