Kevin W. Grossman, host of the CandE Shop Talk podcast, recently welcomed Dale Stelter, Director of Business Development at Career Fair Plus, to join the Talent Board's ongoing conversation about elevating the candidate experience.

You're invited to keep reading this abridged version or listen to the original interview.

Talent Board (TB): Dale, welcome, and thanks so much for joining me on the Candy Shop Talk podcast. Tell us about yourself and Career Fair Plus.



: Thank you, and absolutely! I've been in the recruiting industry for a long time. Working with Career Fair Plus (CF+) lets me blend my campus-based and corporate experience to help employers host their best recruiting events.

I have the privilege of guiding our event hosts representing school districts, university career centers, non-profit organizations, and corporations through our platform as they decide which features they need for each planned event. They can customize and elevate the candidate experience with 1:1 reserved meetings, unlimited group sessions, employer branding features, lead collection tools, and deep ROI insights.

TB: Yes, I'm curious about the marketing and hiring challenges you're helping CF+ customers overcome. But first, will you share some historical perspectives on transitioning from facilitating in-person to virtual events? What role did COVID play in this shift?

: COVID accelerated our technical evolution. Skype introduced video meetings; enabling candidates to book 1:1 meetings with specific recruiters versus waiting in chat queues like our competitors offered was innovative. CF+ was already transforming in-person events with our Skip the Line feature, so we pivoted that technology in early 2020 to support what rapidly became mandatory virtual events. Fast forward to today and clients host a wide variety of things like roundtable discussions, information & FAQ sessions, scheduled interviews–whatever offers the ideal engagement for the targeted candidate base.

Teaching, healthcare, and pharmaceutical are extremely competitive hiring sectors, even two years after COVID began. Which goes to the other part of your question, how is CF+ helping event hosts and recruiters with marketing and hiring challenges?

TB: Right, let's talk about getting past those frustrations.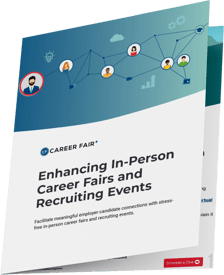 : Before 2020, multiple interviews scheduled over a six to eight-week period were com
mon. Rapid turnover and steep competition for limited talent made speed to hire crucial. Offering a
flexible platform with which employers can integrate early interview stages into hiring events saves time and stress. They can also adjust our software to engage candidates for hourly and/or salary positions. Our marketing guides, email templates, sample social media posts, and best practice tips & tricks simplify promotional activities, too.
TB: We hear that a lot at the Talent Board, too. Speed to hire matters, especially in highly competitive markets. I am curious to know, though, what else differentiates Career Fair Plus from other software platforms helping companies run recruiting events, promote jobs, and hire folks?



: Important questions, Kevin; thanks for asking. You're right, there are plenty of virtual recruiting companies, and seemingly more are opening up daily. The answer to your question about differentiators starts with a question: what do the people behind the company know about recruiting? Do they have direct industry experience? If so, are they translating that knowledge into accessible software?

Career Fair Plus was founded by four former recruiters with strong software engineering skills. So, ten years later, their expertise is a robust enterprise recruiting platform, and CF+ is getting all kinds of user compliments about our software that makes sense.

Another differentiator is that we built software to support single-employer events based on customer feedback and feature requests. We weren't just guessing when we designed our platform; we knew–and we're always asking–how do recruiters want to connect with candidates?

TB: So, CF+ is automatically following trends? No avatars, 3D meeting rooms, or next-world events?



: Funny you ask, Kevin, because NO, that's not on our To Do list. Recruiters are busy and under a lot of pressure. One of our major differentiators is how customers get sophisticated data insights from a simple setup. They're constantly thanking us for software that's not intimidating.\
And I'll add one more thing setting us apart from the competition, which goes back to my first example. Having evolved from in-person to virtual events, we understand how the candidate experience differs at each type of program. So, we keep the software flexible; customers use it for successful in-person, online, and hybrid events.

United Airlines is a perfect example. They need a platform that moves between different types of events to recruit and hire positions ranging from customer-facing hourly staff to remote management.

TB: That's a lot of significant differentiators; thanks for the detailed explanations. You mentioned hybrid events. Are you finding that more of your customers are doing more hybrid programs these days?

: The larger organizations are hosting hybrid events. Large companies, like United Airlines, recognize they need different candidate experiences for various positions. For example, people seeking frontline, especially shift work, might have more flexibility to attend in-person recruiting events, whereas managers might need virtual meetings. A hybrid event means recruiters can do both on the same day if they prefer. That gives them more time to follow up, which accelerates the hiring process. And that's good for companies and candidates!

TB: Absolutely! And speaking about what's best for candidates, let's talk more about engaging them during the recruiting process. Look, the unfortunate recruiting reality is that most applicants don't get the job. But, as long as they're competing–until they get a "no, thank you" they want to clear communication, engagement, and feedback. So, how does Career Fair Plus differentiate regarding candidate engagement?



: Well, we start by recognizing it's a buyers' market, so simple job postings just aren't doing the job--no pun intended. Candidate awareness is really sky-high right now. So when they see the same opening post over and over, they wonder why a company can't fill the position or keep its employees.

Also, the Great Resignation revealed a realignment of candidate values. They're shortlisting potential employers based on the company's work environments, how they develop personal & professional relationships and knowing the recruiters.

Recruiters can share deeper, more relevant information about a company and the available positions. The little blurb inside a job posting is gone. Instead, recruiters can share corporate identities, visions, benefits information, and the type of candidate they seek. Employers can also showcase videos to connect personally before, during, and after the event, which maintains engagement throughout the hiring process.
TB: All of our candidate experience data supports the importance of ongoing engagement and communication. As we wind down here today, share a little about how the Career Fair Plus platform helps customers measure the success of their recruiting events. What kinds of data and analytics are you providing so that they know this is working? How do they know they're pushing the needle in the right direction at the end of the day? What do they see in their CF+ dashboard?



: Perfect question to start wrapping up. I mentioned before that our four founders are engineers. Data was never an afterthought or some numbers to put into a few basic reports. It has to mean something to make it worth collecting and reviewing. The return on their investment is crucial. We're answering ROI questions event hosts have to answer for their bosses, including
What's the cost per lead?
What's the cost per interview conducted at the event?

What's the cost per hire?
Event hosts see these numbers and can effectively share them with their teams and bosses.
TB:

Necessary stats for sure. By the way, since it's just you and me here: What's next for Career Fair Plus and your software? Any top secret feature releases planned for 2023?

: Well, our "Built by You" business model means we're constantly innovating. And that our event hosts, recruiters, and candidates have a major say in "what's next." Our road map evolves from frequent field surveys by prioritizing high-demand requests. I can share, however, a few features that have already worked their way through this process: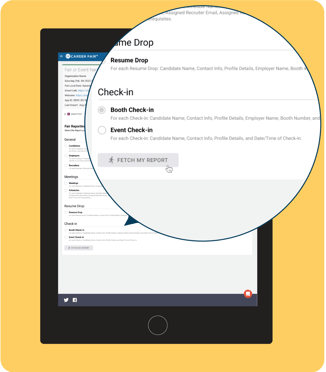 Single Sign On (SSL) integration is live
Check-in & Analytics is a new feature giving our customers the unique ability to collect data about how many candidate-employer engagements happened at in-person events

Resume Drop empowers candidates to connect with multiple employers before, during, and after in-person, virtual, and hybrid events
As for upcoming enhancements, our Direct Chat and Lead Collection for campus recruiting events features will release soon. And we're excited about our initial work getting API to directly feed it into ATS systems.
TB: Thanks for that great peak behind the Career Fair Plus curtain. And also, thanks so much for being on the CandE Shop Talk podcast. I really enjoyed our conversation, and I'm looking forward to meeting you in person someday soon. We appreciate Career Fair Plus supporting the candidate experience and being one of our valuable sponsors.



: Absolutely! Thank you so much for having us.

TB: I like ending on a more personal note since we all talk so much about our work. What do you like to do outside of helping



: Well, I love to eat, and I love to travel. So when my wife and I go anywhere, it's all about shopping, eating, and the travel experience. We do a lot of weekend trips. But our true household passion, I would say, is rescuing dogs. We're terrible fosters; we just can't bring ourselves to give up any dog that we spend time with. So currently, we have two rescues: Penny's a six-year-old Datsun Corgi mix, and Josie's a Staffordshire Terrier mix. Both are rescues from kill shelters.

TB: Wow, that's wonderful. Thanks for sharing that. My family rescued a pug terrier mix named Jenny from a shelter that takes in dogs from older people that can't take care of them anymore.

To our audience, thank you for listening to another episode of The CandE Shop Talk podcast. For more information about The Talent Board, our candidate experience awards, and benchmark research visit, thetalent board.org.

Career Fair Plus is an enterprise recruiting platform for hosting virtual, in-person, and hybrid career fairs and recruiting events.

Talent Board and the Candidate Experience Awards focus on the elevation and promotion of a quality candidate experience with industry benchmarks that highlight accountability, fairness, and business impact.