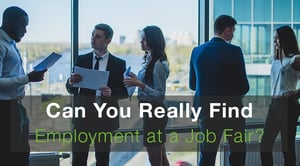 In today's world, everything is more convenient thanks to technology. With a few clicks you can have your Christmas gifts ordered, groceries delivered, and event tickets bought. Why not find a new job online? Gone are the days of having to be somewhere physically in order to get something accomplished. However, there are still benefits to attending a career fair in person, rather than searching through job postings online.
When you're on a quest for your first job after college or a change from your current position, the task can seem daunting. Searching for a job on your own is a painstaking process. Applications, resumes, cover letters, etc. - it can be overwhelming. Luckily, career services departments and organizations host job fairs that can make finding employment easy!
Hired after a Job Fair - Does it Happen?
The short answer is YES! Millions of people have found employment after visiting a career fair.
As mentioned before, technology makes life easier - but also less personal. When searching for a job online, it could be days, weeks, or even months before you hear back from an employer. This waiting leaves you waiting in limbo, either unemployed or stuck in a job that makes you unhappy.
You may have been told that it's difficult to find employment at a job fair, but that's just not true. By attending a job fair, you have a chance to meet with recruiters face-to-face, have them get to know you, and make an impression. This one-on-one time with company employees cannot be accomplished through online job applications. You are more likely to hear back from a recruiter met a job fair before a hiring manager from an online application because you have already established a relationship.
How to Get Hired at a Job Fair
If you're going to a job fair with a goal to get hired, you're going to want to come prepared. The best ways to stand out while attending a career fair include:
A superb resume (bring several copies). After carefully arranging your experience and accomplishments into a resume, make sure to have plenty of copies to pass out to recruiters.
Professional appearance. Take time to get a haircut, shave, and prepare to look your best. Choose an outfit that speaks to the position you want.
A well-rehearsed elevator pitch. It may seem difficult to compress your accomplishments into a 30-second pitch but with a little work it can be done easily. Learn more about crafting an elevator pitch.
Knowledge of businesses and companies at the career fair. The key to making an impression while chatting with recruiters is to already know what the company is and what they do.
Ask the right questions. Researching the companies can help you prepare questions for recruiters. Other crucial questions to ask involve follow-up and scheduling interviews - a key to getting hired!
As you prepare for attending a career fair, be sure you're giving it your all. By preparing and staying confident, you are likely to land a job with a recruiter at a job fair.
Attending a career fair is a great opportunity to begin to make personal connections with companies you are interested in working for, so take advantage! Prepare ahead of time, dress for success and do your research and you are sure to leave an impression with job fair recruiters.