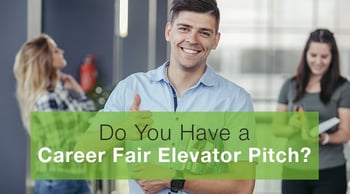 Do you have an elevator pitch ready for your next career fair? An elevator pitch is a quick and memorable summary of your background and career interests. The name is a throwback to a time when prospective employees (or salespeople) waited in building lobbies to jump in an elevator with an executive. If the pitch went well, they chat all the way to the executive suite. If not, they would get off on the next floor, return to the lobby, and try again.
What is your goal?
Career fairs are designed to give you multiple opportunities to meet recruiters from organizations looking for college hires like you. Instead of lurking among lobby foliage hoping for a receptive audience, you'll walk up to a table where recruiters will welcome you. Still, your goal is to sell yourself quickly by making a good first impression in 30 to 60 seconds.
What should you say?
Start with your basic information: name, year in school, and major. Follow this with at least one accomplishment or skill relevant to your job search. This is the perfect time to briefly describe an internship or research applicable to your career field. If you don't have any real-world experience yet, you can talk about a paper or project from one of your classes. Wrap-up your pitch by sharing your career interests and goals, then offer the recruiter a copy of your resume. Carnegie-Mellon University has an excellent guide to preparing your elevator pitch with examples.
Be prepared to succeed
If your introduction goes well, you may spend the next several minutes talking to the recruiter. Keep the conversation moving by preparing a list of questions that you can ask. See our article on 8 Questions to Ask Employers for ideas. Also be ready to describe your strongest skills and abilities. Making a list of your strengths is also a good way to boost your confidence before you go to the career fair. Include details and specific examples.
Customize to each employer
Customizing your introduction to each recruiter gives you the opportunity to show that you are a serious job candidate. Take a few minutes to research employers on Career Fair Plus or the company's website so that you know what job openings the recruiters are trying to fill. It will only take a few minutes to formulate a couple questions for each company, but even that short amount of time will make you stand out from other candidates. Review your question list between each recruiter so that you remember the details accurately.
Follow-up Quickly
Send each recruiter a thank-you email right after you leave the career fair to build on the success of your introductory meeting. Thank the recruiter by name, restate your elevator pitch, and attach your resume. If something went wrong during your first meeting, this is the time to recover. Your elevator pitch is important, but it isn't the end of the world if you stumble on your words or another student interrupts you. Instead, this gives you the opportunity to show that you have the professional skills to pick up and try again.
Conclusion
A good elevator pitch is useful beyond the career fair floor. A succinct pitch sets a professional tone to your LinkedIn and other social media accounts. After practicing, your elevator pitch will become a natural part of the way you meet new people whether you are networking professionally or just meeting friends of friends at a dinner party. Take time to perfect your introduction and keep it update to date as you build your life beyond college. Preparation is the key to successfully navigating a career fair. If this is your first career fair, see some of our other blog articles like 5 Things to Know Before You Attend a Career Fair.