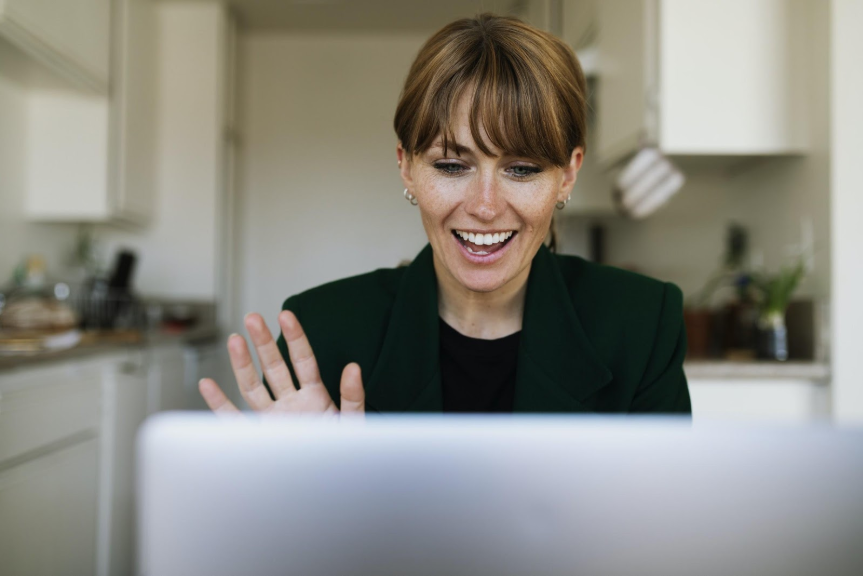 Photo via Rawpixel
Maintaining a professional appearance is important, even if you're working from home or participating in a virtual career fair. Showering, doing your hair, and dressing in your normal business attire can help you stay productive, but it will also ensure you appear composed and competent in virtual environments, including virtual career fairs, interviews and business meetings. Even if you're rocking the Zoom mullet — business on top, casual on the bottom — you're bound to impress hiring managers by putting some effort into your appearance. Here are some budget-friendly steps you can take to prepare for a video interview and appear as professional as possible on video calls.
Maintain Your Regular Makeup Routine
While you might want to let your skin breathe a bit while working from home, Bustle suggests that a little makeup can go a long way to make you feel confident and professional on video calls. Particularly for virtual career fairs and interviews, makeup can also help you combat that washed-out webcam look. Follow whatever makeup routine you would normally use for a regular in-person interview. Importantly, don't feel like you have to overdo it to make your face pop on video. Keep things simple! If you need some new makeup products, hunt for deals from popular beauty stores like Sephora. You might even be able to find some Sephora promo codes for additional savings and cashback opportunities!
Build a Capsule Wardrobe
If you're working from home for the foreseeable future, this is the perfect time to play around with new styles and outfit ideas. Consider purchasing a few new pieces of clothing and building a capsule wardrobe! A capsule wardrobe is a small collection of clothing made up of versatile pieces that can be worn in multiple ways to form all kinds of flattering outfits. According to Redefined Rooms, creating a capsule wardrobe will reduce the time you spend getting dressed and prevent decision fatigue. Plus, working with just a few pieces will save you a lot of money compared to what you might normally spend on fashion-related items. As you put together your capsule wardrobe, choose seasonally appropriate clothing that fits you and feels great.
Try Easy Quarantine Hairstyles
Even though you might not be able to go to the salon right now, you can still keep your hair looking polished and professional. Wispy, splitting ends can make you look haggard — especially on unflattering video calls — so consider giving your ends a quick trim at home. You don't even have to go out and buy expensive hair scissors! Just use a sharp pair of nail scissors to neaten up your style when it starts to look a little shaggy.
You can take your look one step further by styling your hair before your video interview. However, just be careful to avoid frizziness that can be distracting to your interviewer. Any affordable hairspray from your local drugstore will work to keep those flyaway strands in place during your call. If you want to attempt some new styles, get advice from free online videos and how-to guides. Learning how to cut and style your hair yourself might just let you skip those expensive trips to the hairdresser in the future!
Choose a Professional Setting
When it comes to video interviews, your setting matters just as much as your personal appearance. That said, this doesn't mean you need to shell out the money for an off-site office space! Seek out a quiet, well-lit location in your home to attend your virtual job fair or video interview, and make sure none of your family members can be seen moving around in the background. Choose a clutter-free background, such as a blank wall or curtain panels, and position your webcam slightly above eye-level for the most flattering angle. Finally, remember to test that your audio and video are working before jumping into your interview!
The quarantine is not an excuse to throw your professional appearance out the window, especially if you're trying to impress a potential manager or client in a job interview. Pick out some appropriate clothing items, put on your best face, make sure your hair is sleek and polished, and find a neutral background for your video call. With the right preparations, you're bound to nail your interview and land that job!