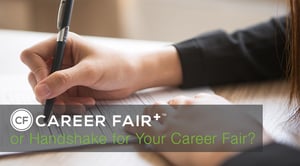 Since Handshake's announcement of their career fair mobile app capability, we have received numerous questions about how Career Fair Plus compares with what Handshake offers. Now that Handshake has launched their app, I will attempt to answer those questions here as objectively as possible.
Why use the Career Fair Plus?
As we see it, there are 5 big reasons to use Career Fair Plus at your fair rather than relying on the built-in Handshake functionality.
1. Interactive Maps
Career Fair Plus users see where their favorite employers are on a map and then they check them off as they go. This way users have a visual plan of attack at hand when they attend a career fair. Users can also tap on any booth to see which employer is at the booth or navigate directly from an the employer details screen to see where that employer is on the map. The Handshake app is a static image and requires the user to toggle to the employer list to locate an employer. Our users have expressed that they don't find a static map very useful. As a bonus, Career Fair Plus includes a booth assignment tool for fair organizers that has cut the booth assignment process for our customers by 75%. For example, at Worcester Polytechnic Institute, what used to take 4 hours, now takes 1 and with many fewer assignment mistakes.
2. Skip The Line
Skip The Line changes the game for career fairs by allowing students to book ahead with employers rather than waiting in line. Students loved saving time, but were even more emphatic that Skip The Line reduced their anxiety by giving them a concrete plan at the event instead of a "walk around and see what happens" approach.
Skip The Line has been such a hit that students, "want to see it for every employer."
3. Sponsors and Ads
Many schools need to highlight fair and campus sponsors that tend to pay relatively large sums of money to get their brand out to students. Many of our customers find it important to showcase their sponsors in the spot where students do their fair research. Career Fair Plus allows both featured employers and banner ads. Additionally, the fair organizer have full control over who gets the ad space and what they cost.
4. Customization
Career Fair Plus lets you customize the information you show for each employer, and we let you set up filters based on that custom information. Handshake lets you collect custom information as a survey during employer registration, but it doesn't let you display that information to students or control what standard information is shown. For example, Career Fair Plus let's your users filter employers based on categories like "Freshman Friendly", "Grad School Recruiting", or "Detailed Work Authorization" to name a few. You won't be able to do that with the Handshake app.
5. Push Notifications
Career Fairs are dynamic with employers registering or canceling at the last minute. Many times, you need to remind students what to do when they show up or what time the fairs starts. Career Fair Plus lets fair organizers send push notifications to your users which cuts through the clutter of email to promote high priority information.
Why Use Handshake's App?
There are 2 reasons to use the built-in Handshake mobile app career fair functionality.
Cost
The cost of Handshake's app is already built into what you pay Handshake. That makes it inevitably cheaper than using Career Fair Plus at the moment.
Single App
The primary benefit of using only Handshake is that it reduces the number of tools you need to promote to your users by 1. That being said, Career Fair Plus averages 75% adoption rate among fair attendees no matter if Handshake, Symplicity or some other tool is on campus as well.
The Winner is…
I think we all knew at the beginning that this blog would pick Career Fair Plus! 😉It's pretty clear why! We know that Career Fair Plus costs a little more to have for your students, but the real question is: Can you afford NOT to have Career Fair Plus?
Do you have other thoughts on why to pick one direction versus the other? Give us a shout. We'd love to hear what you have to say!