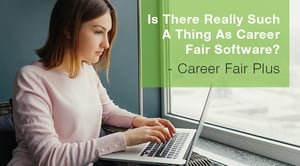 As part of a career services department, you know there are a lot of moving parts involved in putting on a career fair. It's much more than setting up a few tables and passing out fliers. For those looking to improve the career fair experience, you may have considered searching for career fair software - but is there really such a thing? Thankfully, we live in a world where technology is always advancing and people are always coming up with a way to make events easier - even career fairs.
Career Fair Software Available Today
The saying, "there's an app for that," becomes more of a reality each day. We're able to buy almost anything from the convenience of our couch, from groceries to a car. It's only fitting that there be some sort of technology to help people find jobs, too. There is career fair software available to help improve the fair experience for all those involved, including students, employers, and career services.
Virtual Career Fairs
When first researching career fair software, you first stumble upon several companies that offer virtual job fair technology. Essentially, virtual job fairs are an online "event" where employers and job seekers meet in a virtual environment, using chat rooms, video chat, webinars, and/or email to exchange information about job openings. Students, and those searching for employment upload their resumes, looking to be matched with employers. Virtual attendees also browse the "booths" of attending employers. Career fair software that offers these virtual job fairs, allows career service departments or human resources organizations to host these events online, rather than in a facility. These types of career fairs are often preferred by career service teams that are looking to save money by not renting out a large venue.
Event Management Software
Upon further searching, your quest leads you to event management software. This tech is beneficial for the organization and organized execution of career fair planning. This kind of career fair software assists in student and employer registration, invitation distribution, and material checklists. By using event management software for your career fair, you are guaranteed a more organized and smoothly executed event. However, if it's generic event management software, you should not expect it to include everything you need for a career fair.
Take It Up a Notch with Career Fair Plus
While these options assist with some aspects of career fair planning, there is only one career fair app that offers features beneficial to everyone; career services, students, and employers.
Career services teams have to option to use the Career Fair Plus app to advertise the career fair, assign employers to booths, register students, and check real-time data regarding the success of the fair.
For students, this career fair software allows them to create a student profile, upload their resume, and research companies that will be at an upcoming career fair. These simple features alone give students an advantage when speaking with recruiters. Other features, like Skip The Line, allow students to book an appointment time with recruiters at the fair rather than wait in line at multiple booths.
Finally, recruiters love using Career Fair Plus because it allows them to become more familiar with students prior to talking with them, take notes in their student profile as to not forget details, and have contact information readily on-hand for any follow-up interviews or emails.
Career fair software is out there - and waiting for you!