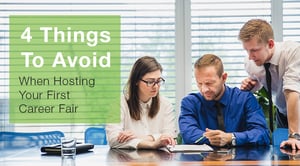 Preparation and attention to the details will make your first career fair a success for your career services team and your students. Many potential problems can be averted with a bit of attention and a good checklist. Here are four things to avoid when hosting your first career fair.
1. Not Checking for Conflicts on the Campus-Wide Calendar
Picking the right day and time of year for your college career fair sets the event up for success. For general guidance, please see our article What is the Best Day of the Week to Hold a Job Fair?
Once you have a few dates that look promising, check your campus-wide calendar. Some conflicts are unavoidable but schedule your event away from other activities that could cause a significant decrease in student preparation or attendance.
Avoid scheduling your campus career fair when your students may be less professionally presentable like Rush Week or Homecoming. Students are unlikely to spend time preparing for a career fair during those weeks, so also try to avoid scheduling the fair directly afterward.
Take your campus culture into consideration. Tuesday and Wednesday mornings may be optimal times to hold career fairs at most schools, but don't follow the advice blindly. If your students refuse to miss classes, then a late afternoon event may be a better fit.
2. Forgetting About Recruiters
The companies recruiting students from your college or university sometimes seem so self-proficient that you can forget they need your attention. Don't forget about them. Do everything you can to make visiting your campus an enjoyable and productive experience. Send invitations early. Respond to calls and emails immediately.
Check in as the event date approaches to see if they need anything. Tools like the Career Fair Plus app make it easy for recruiters to interact with you and your students. Most importantly, follow the advice you give your students and send a thank you note to each recruiter.
3. Unprepared Staff and Volunteer
It takes a lot of people to run a career fair. Start recruiting volunteers for your event several weeks in advance. Schedule at least 2 (3-5 is better) training orientations so that all your volunteers can attend. Keep the meeting short by focusing on precisely what you need from each volunteer. An extended, unorganized training meeting disheartens volunteers. Even if they follow through on their commitment, they are less likely to volunteer again. Assign each volunteer a specific role and explain how to perform each task. Role-playing can be a fun training tool, but it can be time-consuming so use it sparingly. Don't skip covering what to do in an emergency. Finally, make sure everyone knows where to find information and who to approach for help. Here are a few tips from our customers:
Send out reminders the night before your career fair.
Provide coffee and donuts so that everyone shows up on time.
Order t-shirts as early as possible to minimize costs.
Recruit more people than you need because some won't show.
Schedule short shifts (2 hours or less).
Give volunteers a small gift to say thank you.
Every career fair has one or two volunteers who go far beyond what could be reasonably expected. Shower them with thanks.
4. Not Setting Aside Enough Time for Setup
Setting up your college job fair will take longer than it seems like it should. There will be at least one surprise and probably more, so build extra time and flexibility into your set-up schedule. If possible, set up your venue the night before your career fair. If setup it takes longer than you expect, then at least you won't have to delay opening the fair.
Prepare a checklist of what needs to be accomplished during set up and assign responsibility for each task. The Branson Convention Center has a good list to get you started. Include a list of contacts for things that might go wrong including maintenance and custodial contacts for after-hours. Confirm deliveries the day before the event and check each off after they arrive. When something goes wrong, take a few moments to relax (laugh if possible) then work with your team to solve the problem.
Conclusion
Planning your first college career fair can be a mind-boggling experience, but a mobile app like Career Fair Plus can make it easier. We simplify the planning process by sharing the lessons we've learned promoted over 1000 successful career fairs. It's normal to feel overwhelmed, but there is plenty of help available to help you plan and hold a successful career fair on your college campus.