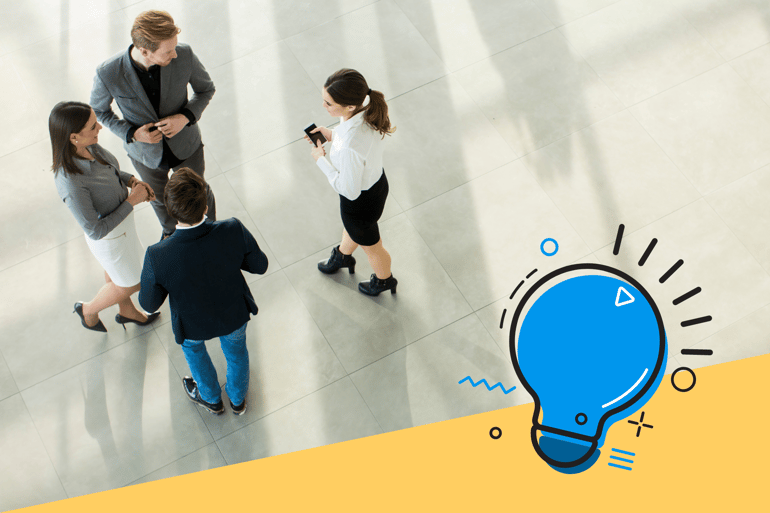 So how do you catch the attention of a potential employer and earn an interview if it's your first recruiting event? In short: know what to expect and be prepared.
Preview employers and recruiting firms as they register for the event.
Learn who's attending, the positions they're looking to fill, and which opportunities fit your career goals. Depending on what software the event host chooses, you might have access to pre-schedule 1:1 recruiter meetings or register for an information session. Or maybe use an interactive map to plan your best routes between high-interest employers at in-person programs.
Revise your resume to emphasize skills aligned with your target positions.
If the event host is using Career Fair Plus (CF+) software, you could have the opportunity to distribute resumes to preferred employers before, during, and after event day–for onsite and online events. If they're not hosting with CF+, many virtual recruiting platforms accept resume uploads in the candidate profile.
But even if you can add a digital resume, bring a few hard copies if you're attending an in-person event. Some recruiters might request a paper version, and you want them to see you're prepared.
Dress appropriately.
Yes, it seems obvious, but you'd be surprised how often candidates forget they only have one chance to make a memorable, positive first impression. Or follow the relaxed dress code of online social interactions instead of professional meetings. Speaking of, if your first recruiting event is virtual, wear bottoms! Especially if you're used to being online with friends wearing PJ pants (or not).
If your upcoming recruiting event is in-person, choose appropriate clothes that also allow for comfortable shoes. Throbbing toes or heel blisters are distracting, to say the least!
Pre-plan your day.
We mentioned this above but with or without access to an interactive map and pre-scheduled meetings, know before you go. Check for late registering employers–chances are they'll have shorter or no lines, and you'll walk right up to a recruiter.
Be prepared to interview.
If you make a positive impression, someone might invite you to interview on the spot. So arrive ready to prove you're the best person for the position.
Network, network, network.
Turn your first (and every subsequent) recruiting event into a free networking event. Share those resumes freely. Collect business cards or grab screenshots of recruiters' contact information if presented. Connect with other candidates. They might share opportunities that don't interest them but are perfect for you.
Follow through, follow through, follow through.
Send thank you notes (ok, thank you emails) to every recruiter you spoke to and have contact information. If you don't have their email address, consider sending it to whoever's listed in the event material with a polite request to forward on your behalf. If you only have a phone number, use it. Follow-through is critical for every employee in any position at each level, regardless of company or industry. Enough candidates miss this crucial step, so your note could stand out even more.
And there those are: your seven tips to make your first time (attending a recruiting event) memorable!