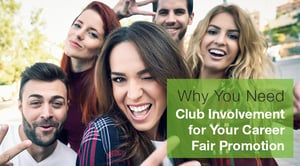 Student clubs and organizations are often-overlooked resources for marketing events. Most college campuses have hundreds of these organizations that often attract the brightest and most ambitious students at a university. Involving student clubs is a highly-effective and inexpensive way to promote a college career fair.
Draw in the Top Talent on Campus
University student organizations attract students who want to go beyond the minimum during their college years. Companies love these students. Employers want students who take responsibility for their future, seek opportunities to acquire workplace and leadership skills and make a habit of going beyond expectations. The Washington Post found that employers were frustrated with college hire grads because they are "not conscientious enough, they don't listen, and they expect too much." Campus organization leaders would probably attend your college career fair anyway, but encouraging their involvement almost guarantees it. The result: employers find and hire students that they love.
Grassroots Marketing
When you promote your career fair through organizations, you reach students at the grassroots level. Most marketing initiatives directly compete with the thousands of other messages students see every day on their newsfeed. On the other hand, comments and invitations from people students know and like, encourage positive peer pressure. Walking into a career fair can be intimidating, but going with a friend reduces anxiety and procrastination.
Attract Volunteers
A successful career fair requires hundreds of hours of work. You will need volunteers to cover the gap in your budget between the resources available and your vision for the event. Where will you find students who work hard and want to make a difference? You guessed it: college organizations and clubs. Send each organization a sign-up sheet for volunteering opportunities. Setting up a competition between the clubs on campus is a simple way to recruit plenty of volunteers. You will get a lot of work in return for a pizza party or small donation to the club's funds.
How to Get Started
A career fair is one of many events on the career services calendar. Sponsoring activities that help students prepare for the fair creates a win for everyone. You get to know your student clients so that you can serve them better. The students learn how to write resumes, prepare for interviews, and act professionally. The recruiters benefit from seeing your students at their best. For more tips for success, see our article 5 Things to Consider Before Hosting a College Career Fair.
Student group activities fit perfectly into this strategy. Student meetings are an opportunity for company recruiters to connect directly with potential student hires in an informal setting. The students are relaxed, dressed comfortably, and surrounded by a supportive crowd. The recruiters can choose from the full array of student organizations on campus to target their efforts. Students who meet the recruiters beforehand are more likely to download the Career Fair Plus app and set up an appointment on the day of the fair.
Conclusion
When you are working on a limited budget, you need creative solutions. Many universities have a 100+ active student organizations. Encourage the clubs on your campus to get involved in promoting your career fair. There is a wealth of talent and enthusiasm available, so look around. Art clubs can put together fantastic marketing designs. A software engineering club can put together an amazing website. Involving student organizations and service clubs in the promotion of your career fair offers many rewards even on the tightest budgets.