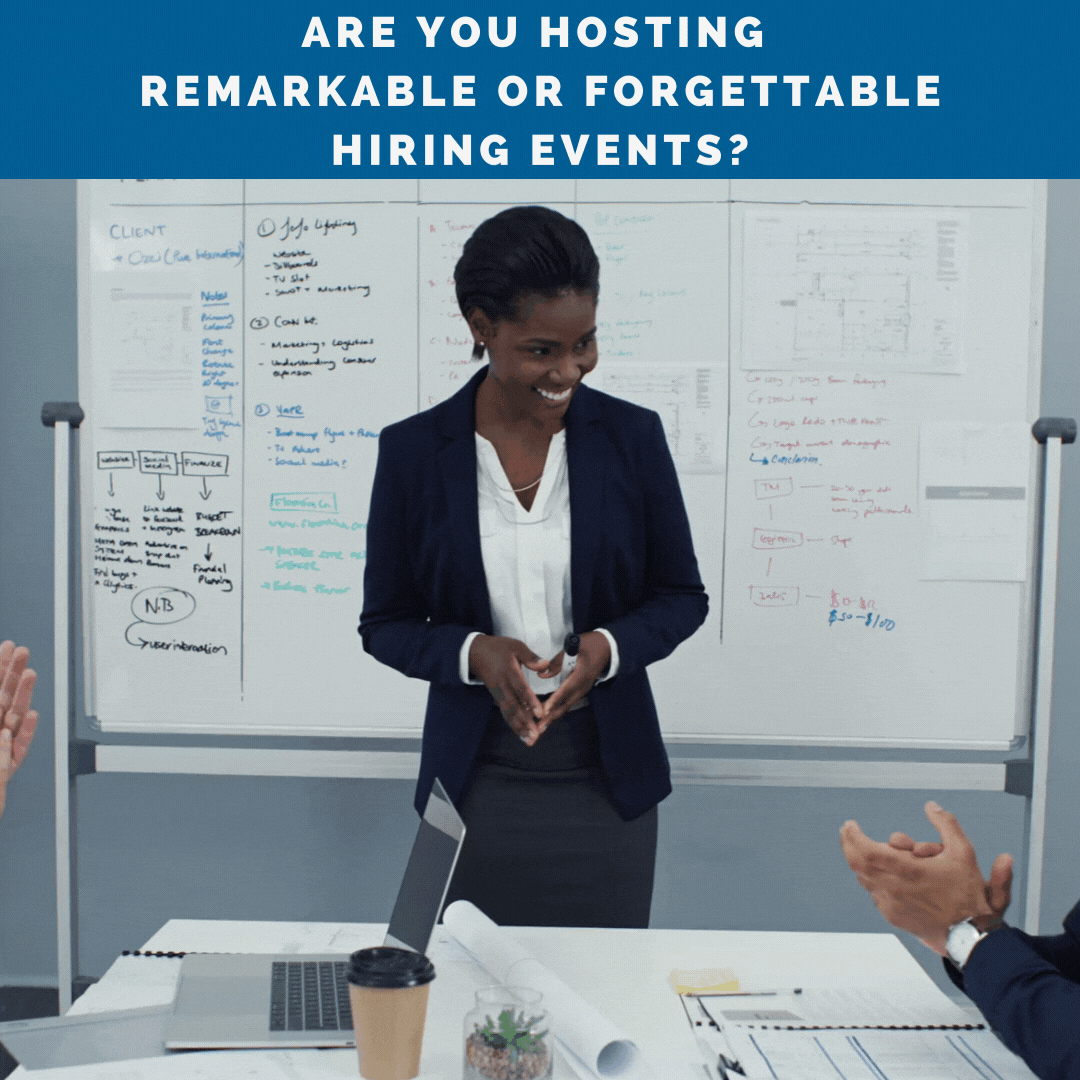 What makes one recruiting event remarkable but another one forgettable? After all, the core structure is typically the same: job seekers hoping to make meaningful connections with recruiters and vice versa. However, a similar purpose isn't enough to ensure similar results.
Even if these five tips seem obvious at first glance, don't dismiss their importance to planning remarkable–instead of forgettable–recruiting and hiring events.
Tip #1: Set clear and realistic goals
Whether your event is university- or corporate-based, the program goals inform subsequent planning decisions. For example, are you prioritizing graduating students searching for first jobs or expanding existing talent pools for various positions?
If your candidates are undergraduate students, perhaps you're promoting internships and graduate schools instead of career opportunities? Maybe you're targeting career-switchers or experienced workers re-entering the workforce? Or, it's possible you're using Career Fair Plus (CF+) software to host an onboarding event or open house for new hires.
What you want to accomplish affects how you structure and market your recruiting events.
Tip #2: Chose the type and format best aligned with your event goals
Set yourself up for success by hosting the right type of event in the best format to attract attendees. The event type is usually a straight line from your goals. CF+ customers typically host career fairs, recruiting & hiring programs, and information sessions to meet immediate hiring needs. Onboarding, networking opportunities, and open houses generally support longer-term talent development goals.
As for the format, virtual recruiting is still the #1 choice for our clients, but many are returning to in-person events or combining options and going hybrid.
If you go virtual, increase your chances of getting "remarkable" reviews by choosing a technology partner (hint: Career Fair Plus!) who:
Offers unlimited bandwidth for faster loading, to mimic face-to-face experiences, and eliminate long wait times for group meetings
Encourages preparation and potentially higher quality conversations by providing advance access to employer and candidate profiles
Customizes your one-on-one and group meeting options
If you're all in on in-person, consider elevating your analytics with technology that :
Encourages walk-up conversations with an interactive map to help candidates navigate employer booths
Displays digital resumes submitted in real-time during live conversations
Captures recruiter notes during candidate meetings
Drives traffic and shares announcements with live communications
Maintains social distancing and encourages time management (CF+ gives you our proprietary Meetings feature)
If you're hosting hybrid events to get the best of both virtual and in-person, CF+ has your back there, too, with:
Deep analytics to assess ROI
Flexibility to quickly pivot from in-person to virtual if unexpectedly required
Live, recorded, and written training to accommodate various learning styles
Options to meet candidates where they are virtually or on-site at your location
Tip #3: Check

all

the calendars!
If you're hosting a university-based event, check and double-check academic, general university, social, religious, and sports calendars for potential conflicts.
Attendance will likely be lower for a career fair on the Monday after the football home opener or the week before fraternity or sorority rush. Still, you'd be surprised how easily some event hosts forget to look beyond the career services calendar.
Corporate recruiters need to consider departmental schedules, community, school, and religious calendars. Also, consider potential seasonal impact. Even with remote work, June, July, and August remain popular vacation months. Locations subject to heavy snowfall might plan spring events to minimize weather-related issues.
Tip #4: There's no such thing as "too early" or "too often"
Your target attendees are busy. Student job seekers, working professionals, corporate recruiters, and hiring managers appreciate plenty of reminders about your upcoming event. Three months ahead is a good starting point. Consider incentives like early bird registration discounts or random prize drawings if students register by specific dates.
Promoting your event keeps it front and center, so check out this head start on 13 ways to revitalize your marketing activities.
Tip #5: Help your job seekers and recruiters prep for success
Nerves and first-time job seekers usually show up together. It isn't easy separating the two, but it's worth trying.
Encourage candidates to "meet" the companies recruiting at your event in the CF+ app. They can preview organizational marketing videos, job posts, and prerequisites. Once job seekers reserve one-on-one meetings with their preferred employers, they can focus on those upcoming conversations instead of wondering who they will meet at the event.
Also, take a scroll around the Career Fair Plus job seekers webpage for insight into how to help reduce candidate nervousness. If you have the resources to host mock interviews or resume reviews, do it. Corporate recruiters, consider inviting potential employees to a virtual open house a week or so before the hiring event to build interest in your organization.
These five tips might seem obvious, especially to seasoned recruiters and career services teams. But sometimes, the more familiar we are with a subject or activity, the easier it is to overlook important details.
So, even if our checklist matches yours word-for-word, consider revamping and re-energizing "the way it's always been." Our software is easy to use, and we work as hard as our customers do to deliver productive, rewarding, and cost-efficient recruiting events. Career Fair Plus is uniquely positioned to help you build in-person, virtual, and hybrid career fairs. Request a call with one of our super-friendly problem solvers today.