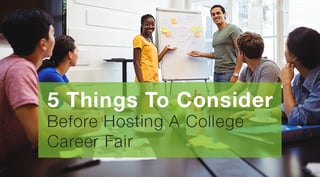 Career fairs are staples on many college calendars. Students meet representatives and begin to plan the next step in their lives. But what makes a college career fair successful? It depends on what you are trying to accomplish. At Career Fair Plus, we've helped many schools plan successful career fairs. Here are 5 things to consider before hosting a college career fair.
Identify Your Goals
Most of the work in organizing a college career fair happens in the planning stage. Planning is much easier if you know what you want. There are many options. A career fair can be for all students from any field of study or you can focus on one field such as healthcare or information technology. Do you want students at every level to see what options are available? Walking around a career fair can help a freshman chose a major. A burned-out junior may be re-energized by seeing future opportunities. Or do you need to find jobs for graduating seniors? Expanding the recruiting list to include graduate schools and professional organizations is another option. See our article on the differences between a career fair and a recruiting fair.
Find the Right Venue
Finding the right venue sets your career fair up for success. There are several things to take into account when finding the right place for your career fair. First, cover the basics such as plenty of room for moving crowds and multiple restrooms. You need a space with good acoustics so that recruiters and students can hear each other. If possible, find a place to host your career fair on campus so that students don't have to arrange transportation but keep in mind that recruiters need a place to unload boxes with close parking.
Select the Right Date
The date and time of a college career fair influence both the attendance and the outcomes of your career fair. If you schedule too early in the semester, students won't be prepared. If you wait until too late in the year, recruiters will have filled many of their job listings. Career fairs held on Tuesdays, Wednesdays, and Thursdays tend to have better attendance. Even the time of day matters. Read our article on the best time of year for career fairs to help you with this decision.
Contact Recruiters Early
Send save-the-date notices at least 3 months before your fair date. The beginning of the school year is ideal. Recruiter's calendars fill early, so the sooner you can get your information out the better. Many people offer early bird discounts to entice early signups. Others use first come first serve to place employers on the map, so if you sign up early, you get a better spot. Our Career Fair Plus app is an easy way to keep track of recruiters. The Career Fair Plus app makes it easy for recruiters to describe their business, and detail what traits comprise their ideal candidate.
Plan Events Leading Up to the Career Fair
Students need guidance and resources to prepare for a successful college career fair. Create and market workshops on professional attire and etiquette, resume writing, interview strategies, and negotiations. Video-recording mock job interviews is an effective way to help students prepare for a career fair. A good mock interview will cover introductions and small talk in addition to interview questions. The Best Interview Blog has a helpful guide to mock interviews. Watching the interview recordings and giving feedback is an essential, but time consuming component of a successful mock interview program. Holding career preparation events do more than guide students through a successful job search. Marketing the events can build excitement for the big event - the actual career fair.
Conclusion
Hosting a college career fair takes a lot of work, but the time and resources are well-spent when students connect with the recruiters they need to start their careers. Take these tips into consideration, and you will be off to a good start.