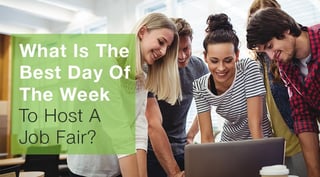 Does the day of the week matter when scheduling a job fair? Most experienced hosts recommend avoiding Mondays and Fridays. The middle of the week tends to be better for student turnout. Recruiters also prefer the middle of the week. Let's run through the options to find a day that works for recruiters and students.
Mondays
It's hard enough to get students to go to regularly scheduled events (like classes) on Monday, so student attendance is likely to be low. If recruiters are coming from out of town, Mondays may require them to cut their weekends short to leave home on Sunday night because Mondays are the worst day of the week for flight delays.
Middle of the Week
Wednesdays are by far the most popular day of the week to host career fairs followed closely by Tuesday and Thursday. Scheduling your job fair in the middle of the week gives you a day or so to send out reminders and answer last minute questions from students. Exams or due dates are more frequent on Monday and Friday, giving students more flexibility during mid-week. Recruiters enjoy having a spare day to travel and set up. Even a Thursday fair will allow recruiters to be home by the end of the week.
Weekends
The National Association of Colleges and Employers (NACE) say it plainly, "Don't hold job fairs on Friday". Students and recruiters both shift their focus to the weekend. There are a few exceptions. For example, if your college has an active evening and weekend program for non-traditional students then holding a job fair on Friday evening or Saturday may be the best day. Remember, however, that this will require recruiters to work over the weekend.
Good attendance is a crucial part of a successful job fair. Take time to figure out the best day for students at your campus. For most college career fairs, Wednesday is the best choice for both students and recruiters. Every school is different, so find what works for your situation. For more information on the best months, days, and times to hold a job fair see our blog article Career Fair Planning: Selecting the Right Time of Year.