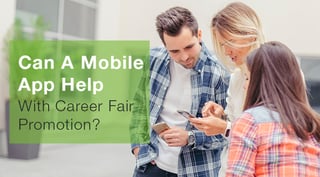 There are so many opportunities to promote your career fair that it can be challenging to figure out where to start. A mobile app like Career Fair Plus can simplify the process by giving you a roadmap based on the lessons we've learned from promoting more than 1000 college career fairs. Let's look at some of the ways a mobile app can help with career fair promotion.
Students Barely Notice One More App
Pew Research estimates that almost all college students actively use at least one social media account every week. Most use multiple accounts like Instagram, Twitter, Snapchat, several times a day. It sounds confusing to those who did not grow up juggling online identities, but college students do it easily because all these accounts integrate smoothly with their smartphones. Adding a new app to their phone like the Career Fair Plus application is a natural and almost unnoticeable task for today's college students. Of course, the benefits from adding the Career Fair Plus app will be noticeable.
Simplify Career Fair Promotion
A dedicated mobile app makes life easier for your career services team. Promoting a career fair on multiple social media accounts requires a great deal of coordination. Someone to keep track of what is posted where. Each announcement needs to be posted on each account several times without using the exact same wording. The popularity of social platforms can change without warning, so announcements need to be posted on as many platforms as possible to reach your students. Instead of all this, your team can push out announcements that students will see from one central location.
Marketing Materials and Best Practices
Career Fair Plus is the number one career fair app because we have learned from years of experiences. When you partner with us, you will have access to marketing materials and best practices to help you promote your career fair. There's no point in re-inventing the wheel. Customizing top quality materials to fit your career fair promotion saves resources. Your career service team can spend time working with students rather than writing marketing copy and designing posters.
Keep Recruiters Happy
Students are the main audience for career fair promotion, but employers need attention also. A branded career app promoting your upcoming events signals to employers that your career team is organized and using the best tools on the market. Successful promotion not only increases attendance at a career fair but brings in the right mix of students. The companies can promote their job openings and internships through the app. Here again, a mobile app acts as a central hub and makes promotion more convenient for everyone.
Conclusion
Successfully promoting a career fair increases enthusiasm and attendance. There are many ways to promote your fair, but start with centralized promotion tool like a mobile app, then expand into other social platforms as you have the time and resources. For more ideas, see our article on Excelling at Career Promotion.