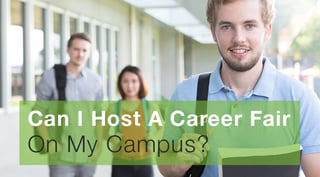 Hosting a career fair on your campus is a great way to let students and employers meet and exchange information about career opportunities. Employers enjoy the advantage of meeting prospective interns and employees in person. Students can practice professional behavior and network with recruiters. So how do you go about hosting an event on your campus?
Sell the Benefits of a Career Fair to Administration
Career fairs can be costly, but the benefits are significant. Not only do students make valuable connections to future employers, but a successful career fair increases college visibility to recruiters. Many employers do not think graduating students have the skills they need. A career fair can help bridge that gap as employers, faculty, and students network and develop relationships. You can jump-start faculty-recruiter relationships by scheduling a networking lunch or happy hour in conjunction with your event. For some of the other benefits see How Hosting a Career Fair Helps Your School.
Find a Convenient Career Fair Venue for Students
Look for a location that is convenient for both students and employers. If you have a large campus, look for a venue that is close to the classrooms of your target students. Student attendance at a career fair for engineering students will be better if it's a short walk from the buildings that hold classes for upper-level engineering students. Similarly, the ideal location for a full-campus career fair is near the center of campus.
Find a Convenient Career Fair Venue for Recruiters
For recruiter convenience, look for a venue that has parking close-by. This can be a challenge on many campuses. One alternative is setting up an unloading zone for recruiting tables and materials, then providing dedicated shuttle service from the parking lot. Find a venue that has quiet areas for recruiters to take a break or interview students. For some of the other factors to consider when choosing a site, see Career Fair Planning: The Right Venue Matters.
Career Fair Venue Technology Needs
Everyone will need wireless access for laptops, phones, and the Career Fair Plus App. Recruiters will need access to electrical outlets and adequate lighting. If necessary, arrange for your IT department to temporarily boost the wireless service so that it can handle all your recruiters without slowing down. You will also need guest accounts so that employers can sign onto the network quickly. Schedule IT professionals and student volunteers to help recruiters get online or provide assistance during the event.
Other Conveniences
Treat your recruiters well by offering a snack and beverage area where they can relax and escape students for a few minutes. Have a plan for rain or bad weather so that students don't need to carry umbrellas or heavy coats. One thing many planners forget is to check for adequate mirrors and lighting in the restrooms. Students need to check their appearance before visiting the career fair. Good mirrors and lighting are a significant help.
Organizing Volunteers
Volunteers are essential to a smooth-running event. Volunteering is an excellent way for students to interact casually with recruiters. Start looking for volunteers early and schedule at least two different times for training. Create a schedule and assign everyone to a specific task. If possible, recruit more people than you expect to need. Then overlap schedules for the most critical tasks in case volunteers cancel or miss their allotted time.
You Can Do This
Hosting a career fair on campus requires time, energy, and resources. Like many things in life, the first time you host a career fair is the hardest. It gets easier over time, and the benefits are well worth the effort. It's not easy, but you can host a career fair on your campus.