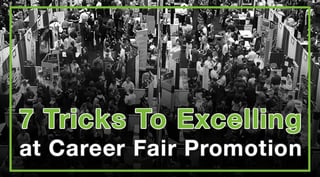 There are thousands of career fairs every year. How can you make yours stand out? The key to successful career fair promotion is to start early and organize. Here are 7 tips to excelling at career fair promotion.
1. Leverage Your LinkedIn PremiumAccount
LinkedIn offers a premium business option that allows you to research and evaluate both companies and individuals. Search the LinkedIn database to find and connect with businesses and organizations that would benefit from placing a booth at your career fair. LinkedIn will give you specific names in these organizations. Send an email promoting your fair, then follow up with a phone call. As the fair date approaches, use the LinkedIn database to find professionals who might be interested. Even if a candidate is not looking for a new position, there is a good chance that she knows someone in the same profession who is looking.
2. Publish Your Website Early
An attractive, easy-to-navigate website promoting your job fair is the heart of your career fair promotion strategy. Every post, announcement, and email will link back to your website. Collect contact information from both organizations and attendees by promising updates as the fair approaches. As companies register, list their information including icons so that viewers can see who will be attending with a quick visual scan.
3. Post Frequently on Social Media
Social media is the ideal place to market your career fair to both hiring organizations and potential attendees. Almost 50 percent of job seekers participate in a social networking site like Facebook, Twitter, or LinkedIn at least once a day. Several social media management tools will are available to help you stay on top of this process. This list from Search Engine Journal is a good place to start.
4. Reach Out to Local Media
Most companies are looking for local candidates, so local newspapers, radio stations, and magazines are ideal places to promote your job fair. Post your job fair information on community calendars. Most newspapers and magazines allow you to search for previous articles. Type in "career fair" to find news stories covering other job fairs, then contact the reporters who wrote the article.
5. Publicize on a Shared Calendar or Event Listing
Extend your career fair promotion even further by listing your fair on your school/organization's event listing website. This may involve adding your career fair to a calendar or list of events. While there are many ways to for a potential applicant to find your fair, most people start their search with the basics and an online event listing is certainly basic but effective.
6. Maintain a YouTube Channel
YouTube is both a search engine and a social media site. You can create a YouTube channel dedicated to your career fair. Spend the time and resources to film and publish several short videos. This can be a lot easier than you might think. You can offer interview tips or brief interviews with companies who will be hiring at the fair. At the end include the time, date, and location of your career fair with a link to your website.
7. Target Your Marketing
Take advantage of the targeted marketing available on social media sites. Facebook, YouTube, and Twitter allow you to focus your advertising on a highly specific demographic. For example, your ad might appear only to job-seeking CPA's who live in a particular zip code. Take the time to customize each ad to the demographic you are targeting. Then provide links to your web page and social media sites.
BONUS: That's right, we have a bonus for you. Although this doesn't fit in with the above mentioned digital techniques, we always recommend in-person promotion. That means hosting events in your office where people have the chance to come by and learn about the upcoming career fair from the person with the most knowledge about it, you. It doesn't hurt to offer an additional incentive to visit such as coffee and donuts.
Conclusion
The key to successful career fair promotion is to start early and target those most likely to benefit from attending your fair. Use these tips to attract both companies and potential employees to your career fair.