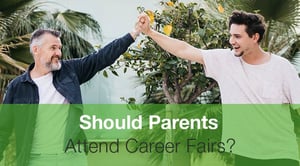 As a parent of a college student, you may feel like time is running out on the involvement in your child's life. They've made it through high school, and they're on the cusp of completing their college career - and then they're gone. At this stage in their life, you as a parent may be worried about losing them to the real world. Don't worry. This is totally normal. If this could mean the start of your empty nest, you may feel like you need to be involved in as many moments as possible, including their job search.
If your son or daughter is planning on attending their first career fair, it's better for them if you do not attend. Whether it was your idea or theirs, it's suggested that parents provide moral support from home. According to experts, parents top the list of people who should never attend a job fair.
Why Parents Should Sit Out During Career Fairs
Your student may feel more comfortable or more confident with you by their side, but having a parent at the career fair does not bode well for their future employment opportunities. Recruiters and employers may see a parent's involvement as a crutch for your student. Recruiters are going to wonder how your son or daughter will handle responsibilities in the workforce without the help of their parents.
How You Can Help Your Child Be Successful at Career Fairs
While it's not a great idea to physically attend a career fair with your college student, there are plenty of other ways you can help them succeed at these events.
It's crucial for a student to be prepared for a career fair. Preparation includes crafting a resume, practicing their elevator pitch, and doing some research on participating companies. As a parent, you can lend a helping hand in all aspects of this groundwork.
Resume
If your child has not yet written a resume, it's time to get started. Help them build a resume that exemplifies their accomplishments and explains any experience they may have through summer jobs or college internships.
Don't forget about other important items to bring to career fairs.
Pitch
Once you've helped them craft the perfect resume, you can work on the pitch. For a career fair, it's essential that your student has a 30-second elevator pitch prepared that explains who they are and why they are the perfect candidate. After determining what to say in the pitch, help your student with delivery. Have them rehearse their pitch several times a day so they are confident when it comes time to use it at the career fair.
Research
The last step in preparing for a career fair can be a bit time-consuming but will pay off significantly in the end. Use resources from the career host organizer or Career Fair Plus app to find out which companies will be sending recruiters. With this list of businesses and organizations, begin researching which ones are the most interesting and relevant to your student's career path.
From there, help your child with researching more information about these companies, i.e., what they do, their history, and any significant events or happenings going on with their organization. This knowledge will show recruiters that your student is seriously interested in working for the company and will give them a leg up on other career fair attendees.
It may be hard to let your young adult face this nerve-wracking experience alone, but ultimately it is what's best for them and their future career endeavors. While you should not attend a career fair with your child, you can still help them be prepared and on-track for success.