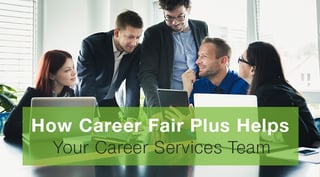 Career services teams have so much to do! All of it is important, so how can you get more done in what little time you have? Working with Career Fair Plus is like adding a new member to your team dedicated to making your life easier. Here are just a few of the ways Career Fair Plus can help your career services team:
Customized Announcements and Reminders
Do your students have lots of questions - but it's the same questions over and over? The Career Fair Plus app allows you to post customized announcements, including an FAQ. You can also list employers with their information, and remind students about upcoming events using push notifications. It's more efficient, and you won't worry about forgetting to send out emails on specific days.
Pre-Registration
Starting in the Fall of 2018 students can pre-register for your career fair to avoid the line and spend time meeting recruiters instead of waiting. You can also allow students to send resumes and set appointments with employer recruiters.
Easily Accessible Employer Info and Contact Information
Career Fair Plus is native on both Apple iOS and Android, so your students (and your team) can access information anytime, even if they don't have an Internet connection. Our application has fast response times and is built to be user-friendly.
Here's a partial list of the information available to your students:
Up-to-date list of employers attending
Detailed research information about each employer
Filters to make searching employers easier
Option to mark employers as favorites
Interactive digital map to show the floor plan
Tips and advice for professional encounters
Friendly Analytics Dashboard
Analytics are important to repetitive success and improvement, but figuring out which ones are useful an be intimidating. Career Fairs Plus has a user-friendly dashboard showing you just the analytics you need without extra clutter. We can even share some of our company analytics such as What is the Best Day of the Week to Host a Job Fair.
Helpful Marketing Materials
Marketing your career fair can be time-consuming. When you register with Career Fair Plus, we share marketing materials and the best practices we have learned from helping career services profession plan over 1000 successful career fairs for college students. The Career Fair Plus Blog always has useful information. Take a look at Using Social Media to Dominate Career Fair Promotion.
Live Streaming Information During the Fair
The unexpected can happen at even the best-planned events. With Career Fair Plus you can quickly share information without having to resort to the speaker system that no one can understand. You can send out tips about where the lines are short or send out a reminder when closing time is near.
Career Fair Plus is a complete mobile solution that makes planning a career fair easier and less time consuming for your career services team. Our interactive application allows your students to research organizations, navigate career fairs, and receive announcements anywhere they have their phone.