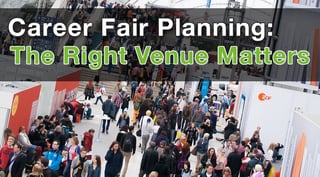 Organizing a career fair is a major undertaking. Among the many decisions you will need to make is deciding on which venue is the best place to host the fair. Selecting the right venue can impact the success or failure of your fair. That is why it is important to take the time to find the perfect venue for your career fair.
Factors for Selecting the Right Venue
There are several things to consider when selecting a venue for your career fair. Here are some of the most important:
How many people do you project will attend the fair?
You need to have a rough idea of how many people will be attending the fair in some capacity. You need to consider the number of employers/recruiters who will set up booths. You need to estimate how many students and job seekers will come out for the fair, though only a percentage will be in the space at a given time. Also, remember to count in your staff and volunteers.
Once you have an estimate of how many will be at the fair, you need to consider whether a venue can handle your expected crowd. Fire codes may prevent too many people from entering the space at one time.
Is the location convenient for students and employers?
College campuses offer a variety of spaces to hold a career. However, you may find the venues just don't suit your needs or maybe they are all booked up. That is when you should consider off-campus venues.
Ideally, your career fair should be within a short distance of the campus, allowing students to attend the fair as their schedule permits. Employers should have no issues finding the venue, especially if they are coming from out of town.
Is there adequate parking within a short walking distance?
You need to consider whether your students and the employers will have a place to park for the duration of the career fair.
Many urban areas are short on parking. You may find the perfect venue at a great price, but with no parking available anywhere close. Other times, the parking may be available, but attendees may have to pay to get a space.
Even if you are hosting the fair on campus, consider where the employers will park. You don't want them walking a mile across campus, especially if they have to transport items from their vehicle to the venue.
Are there other transportation options available?
Some students don't have cars. Finding an off-campus venue that is close to public transit is a smart idea. That way, all students can access the venue without worry as to whether they can get a ride or not.
Is the venue air conditioned?
You are going to have a major crowd of people at your job fair. All of those people are going to generate a lot of heat. If you host your fair in the summer and the venue has no air conditioning, everyone is going to be hot and miserable. If you are holding your job fair in the dead of winter, make sure the venue has a climate control system that will keep everyone comfortable.
What amenities are available at the venue?
At the very least, the venue should have easy to access restrooms. This might seem like common sense but trust us, there are venues out there that do not make this easy.
Other amenities to consider include private spaces for interviews to take place, snack machines, and water fountains.
Selecting the right venue is paramount to your career fair's success. By taking thew above mentioned topics into consideration you will be well on your way to hosting a great fair.