your questions
Will Never Go Unanswered
What type of events are other K-12 districts hosting with CF+?
K-12 recruiters are driving recruiting success by hosting virtual and hybrid:
Benefits fairs
Career fairs
Hiring events
College recruiting events
Information sessions
Onboarding fairs
Open houses
Why are districts investing in various recruiting events?
To offer flexible, easily accessible programs that deliver great candidate experiences.
Should I do in-person, virtual, or hybrid career fairs?
Yes. Seriously, you can host one or all with CF+. We'll help you decide the best fit for your goals and resources.
How much does CF+ hosting cost?
You control spending by choosing a pricing model.
How long does it take to get started?
"CFP helped us get a virtual fair up and running in an incredibly short amount of time!"
- Amy A
Is the software easy to use?
"I have to say that CF+ has been, by far, our most positive experience. It was stable, easy to adopt, intuitive to use, and performed head and shoulders above the other platforms."
- Kevin F.
The 2 New Rs in Education: Recruiting & Retention
How to Find and Keep the Best K-12 Teachers & Staff
CLEAR YOUR RECRUITING HURDLES ONCE AND FOR ALL!
Here's How CF+ Helps You Solve Five Recruiting Challenges
Create Strong Employer Branding
Customize your events
from start to finish
Expand the Talent Pool
Choose a platform that supports unlimited attendees
and recruits across the country or worldwide
Deliver Great Candidate Experiences
Offer pre-scheduled meetings,
personalized engagement, and easy navigation
Engage Passive Candidates
Enable them to observe, learn,
and then entice them to act
Robust Technology
Simple design, intuitive navigation, mobile app, web access, and low bandwidth requirements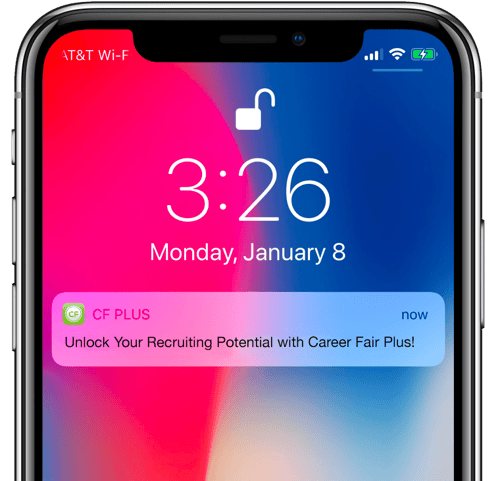 GO AHEAD
Choose Your Format, We Can Take It
Benefit
In-Person
Virtual
Hybrid

☑️ Accommodates multiple ways to attend

❌

👍

Video, Chat or Phone

👍

📆 Prescheduled 1:1 or group sessions

👍

👍

👍

🎥 Customizable video rooms

❌

👍

👍

🗺️ Detailed floor maps for easy navigation

👍

❌

👍

💪 Flexes with last-minute surprises

❌

👍

👍

🌦️ Weather Impacts Turnout

👍

❌

👍

📊 Reporting & Analytics

👍

👍

👍
What Our Customers Are Saying
"I think it's the best support and communication I have received from any organization. I truly appreciate all of you and your diligent work."
"Response times were incredible. The app is slick and user-friendly. Loved the analytics!"
"You will love Career Fair Plus. I haven't worked with a more friendly and beyond efficient, customer-service driven company, ever! They'll answer questions ASAP with an encouraging and supportive tone!"
Over 125 Educational Organizations Use Career Fair Plus
Budgets Vary, So Your Purchasing Options Should, Too
Proof of Concept
Try out our platform, risk free!
---
Package
An affordable way to get started!
---
Annual License
Unlimited everything!
---
Unlimited Programs
Customizable to Match Your Budget & Recruiting Needs
---
GET STARTED NOW!
CF+ offers multiple pricing models to flex around your recruiting goals and spending limits