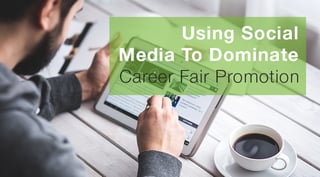 College students spend a significant amount of time on their smartphones, so social media platforms like SnapChat, Facebook, Twitter, and Instagram are excellent ways to promote your college career fair. But how do you get started? Here are some strategies we at have found to be highly successful.
Setup Your Social Media Accounts
If your office doesn't already have several social media accounts, this is the place to begin. At a minimum, you will need accounts on Facebook, Twitter, Instagram, and Snapchat. If your school uses BlackBoard or Moodle, then you will need an account dedicated to your career services office. Posting videos on YouTube or Vimeo can be another powerful promotion strategy.
Create a Hashtag
Hashtags originated with Twitter, but now they are a way to unite your social media campaign over multiple platforms. A hashtag makes it easier to find your content. It's also more convenient for students and recruiters to contribute information. A useful hashtag is short, unique, and relevant. Many hashtags string multiple words together such as #CareerFairSMU or #FallCareerFairUC. You may want to use various hashtags that specify a certain major #CareerFairNursing or a year #CareerFairMC2018.
Use Your Hashtag Everywhere
Now that you've chosen a hashtag, start using it as part of all your marketing and communications. Put it on your web page, email signature, and in all your social media accounts (except LinkedIn). Start early. Successful career fair promotion requires saturating social media to create a buzz. Begin with a few posts at the beginning of the school year, then build gradually as the career fair approaches.
Automate Your Social Media
Social media promotions require constant posting. An inexpensive way to do this is to use one of the many social media automation tools on the market. HootSuite is the best known, but it has several competitors. Mashable has an excellent guide to automating social media. Choose a tool that maximizes your available time and fits within your budget.
Consider Additional Technology
Technology makes it much easier to plan events like a career fair. An app like Career Fair Plus can integrate with your other career service accounts such as Handshake to give your students a seamless interface. See our blog articles on Career Fair Technology You Can Use Now to see some of the possibilities for career fair promotion.
Host Twitter Q&A Sessions
University students are very comfortable asking questions through texts and social media. It can be challenging to respond to these questions quickly. One solution is to schedule and host a series of Tweet-Ins. These are times that you will be on Twitter (or another social media platform) to answer questions in real time. This method gives students the informality and instant response they want while letting you have a professional and personal life without constant interruption.
Check-In Every Day
It isn't possible to fully automate your social media campaign, but you can minimize your time requirements. Check each account at least once a day for questions, comments that need a response, and trolling. As the day of your career fair approaches, use push notifications (the Career Fair Plus App can help with this) to registered students.
Conclusion
Using social media for your career fair promotion can dramatically increase student interest and attendance. With planning, you can set students up for success with the right combination of digital interaction and physical presence. Posters on bulletin boards and preparation workshops are still effective marketing strategies, but social marketing is an essential part of career fair promotion. For more tips, see 7 Tips to Excel at Career Fair Promotion.