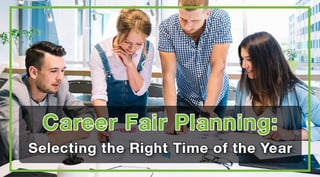 According to a recent article in The Atlantic, today's college students are highly career-minded. At the same time, American businesses need more college grads than ever before. So when is the best time of year to bring them together?
Best Months for Career Fairs
Students are at the peak of their motivation in September. Everything is fresh. Most students are refreshed from a lighter summer schedule. The school year is just starting. Focus and ambition are both at high levels. February follows a similar pattern. Consequently, September and February are the most popular months for career fairs. March and October, are the next most popular.
Schedule Early in the Season
If you schedule your career fair early in the season, employers will have more job opportunities for your students. As the season progresses, positions will be filled. This increases the competition for the remaining jobs. 80 percent of career fairs happen before November 1. Recruiters are less likely to take a chance on a borderline student in September when there are plenty of openings than in November where there are only a few slots to fill.
Best Day of the Week for a Career Fair
Only 19 percent of career fairs are scheduled on Monday, Friday, or Saturday. These days are more convenient for students, but recruiters prefer the middle of the week because it gives them more travel time. You want your employers to be well-rested and happy rather than frazzled from waking before dawn on Monday to catch a 5 a.m. flight.
Best Length for a Career Fair
Career fairs are most successful if they are limited to 3 to 4 hours. If it is too short, then students will have difficulty finding time to attend between classes. If the fair is too long, recruiters will get tired and possibly lose some of their enthusiasm.
Morning or Afternoon?
Recruiters need time to travel and get set up. Most events start between 10 a.m. and 11 a.m. This is a good time for students because most have a lunch break worked into their class schedule. 44 percent of job fairs start in the afternoon. An afternoon event has the advantage of allowing students more time to prepare in the morning. The extra preperation can result in students that are more relaxed.
Conclusion
Late September and early October are the most popular times to hold a career fair. Students are motivated, and recruiters will still have plenty of opportunities. Make the fair long enough for students to visit several employers, but short enough that employers stay attentive.