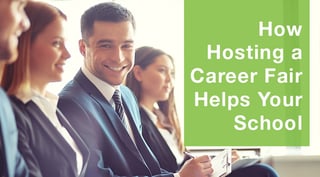 Every year, career service professionals plan and host thousands of career fairs. What are the benefits of hosting a career fair at your school? How do you justify the cost of a career fair when colleges are facing tight budgets and challenging every expense? Fortunately, hosting a career fair benefits students and helps your school. Finding employment by hosting a career fair for students enhances the college's reputation and ranking. College career fairs help freshman and sophomore students visualize future career opportunities. Career fairs are a win for everyone.
Career Fair Venue Matters
Budget reductions may make administrators think twice about hosting a career fair on campus, but studies show that the venue matters to both students and employers. Students need the convenience of an event close to their classes. They are more likely to attend if they don't have to make special transportation arrangements or negotiate class absences. Employers have a limited amount of recruiting resources. They are more likely to attend a career fair on campus. Better attendance by students and recruiters results in more job opportunities and offers.
US News and World Report College Rankings
The US News and World Report College Rankings have grown over 30 years to become the research standard that many high school students and counselors rely on to make decisions. Although hosting career fairs or even the percentage of employed graduates do not directly affect a college's rank, the rankings are shifting more toward graduate outcomes such as graduation rates and the number of STEM degrees granted. The percentage of alumni who make financial donations to the college is directly calculated into the rankings as a measure of student satisfaction. It's not a huge leap to link successful employment with financial giving. Working alumni are more likely to share their economic success with their college.
Federal College Scorecard
The US Education Department does include the percentage of successfully employed graduates in the Federal College Scorecard. Recognizing that students and parents are often overwhelmed by marketing information when choosing a school, the Obama Administration set up the College Scorecard to show, among other factors, the likelihood of getting a good job after graduation at a specific college. The College Scorecard includes graduation rate and ability to pay back educational loans in addition to employability - all of these factors are positively influenced by hosting a career fair. Career fairs help students choose programs with higher employment opportunities and motivate them to complete the requirements to graduate from those programs.
Non-Traditional Students
The National Association of Colleges and Employers (NACE) has found that non-traditional students need a full array of career development resources including on-campus job fairs to successfully transition into the job market after graduation. Non-traditional students are more likely to be first-generation college students with little exposure to professional career-oriented jobs. Career Fairs match students and employers, but they also play an important role in showing students what opportunities are available if they continue in their college program. This knowledge can provide the vision and motivation needed to push through school after the initial hope and enthusiasm begin to wane. Non-traditional students see that their financial, time and family sacrifices will be rewarded with new career opportunities.
Career Fair Plus Helps with a Tight Budget
Even with the many ways that hosting a career fair helps your school, you are probably facing a tight budget. Career Fair Plus can help you do more with limited resources. The CareerFairPlus App is the most popular career fair app on the market with over 700,000+ student downloads. We have multiple solutions available for any budget with unparalleled customer support.