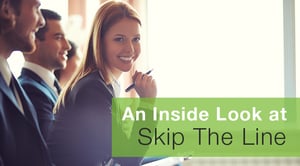 We hear your requests, and we are delivering! One of the most exciting new developments from Career Fair Plus is the launch of Skip The Line. Already receiving great reviews from students, employers, and career service departments, Career Fair Plus wants to give you the scoop and an inside look at our favorite new feature!
What is Skip The Line?
Just like it sounds, Skip The Line allows students attending career fairs to make appointments with recruiters rather than stand in line and wait to speak with them. This feature saves time and frustration for both the students and employers who are looking to benefit from attending a fair.
What else does Skip The Line offer?
After opting in to Skip The Line, employers can customize a schedule for meeting with students. This customization includes simply choosing time slots for students to visit their booth and speak with recruiters.. When students make an appointment with employers, they can choose to include their student profile and resume. This allows recruiters to review and get to know a student before meeting them at the fair. Additionally, after students reserve a time slot, both the student and employers receive an email confirmation detailing who, where, and when they will be meeting.
Skip The Line also includes the ability to rate students, leave comments, and make notes all within the app. Employers can later visit and consult these notes as they decide whether or not to move forward in the hiring process.
Why Students Are Loving Skip The Line
We surveyed students who have already had the chance to use Skip The Line and asked them what they liked most about it. Their answers included being able to prioritize schedules and saving time. Students found their experience at career fairs when using Skip the Line felt more successful and fruitful because they spent less time waiting around, and more time speaking with potential employers.
For employers who have opted-in for Skip The Line, there will be two separate sections at their booth during the career fair. There will be a Skip The Line section and a "walk-up" section. Students with a reservation present themselves to the employer and inform them of their reservation. Employers can then confirm this appointment on their application, making for a smoother process.
For Career Services
As a college career services department, Skip The Line can transform your future career fairs. As we've already found out from dozens of users, employers and students love this feature. Skip The Line streamlines the career fair experience. It allows attendees to make the most out of their time at the fair. Students can maximize their time by making reservations with company recruiters they are most interested in, and recruiters can be more organized and prepared when meeting with students.
When planning a fair, Career Fair Plus will provide your career services department with the right marketing materials. These materials will help your career services office to get the word out about Skip The Line, and all of the other great features that the Career Fair Plus application provides.
Let's Not Forget About Employers
It almost does not need to be said but we will say it anyways. Employers love Skip the Line. For an employer, attending a career fair can be a significant commitment of both time and resources. Skip the Line allows employers to maximize their time at a career fair but making the students meet and greet process easier and more efficient than ever.
If you still have questions about Skip The Line, or how it can revolutionize your future career fairs, we will be hosting webinars where we will answer all of your questions. We will also be providing communication packets with email templates, printable materials, and videos to help you communicate better with students and employers.